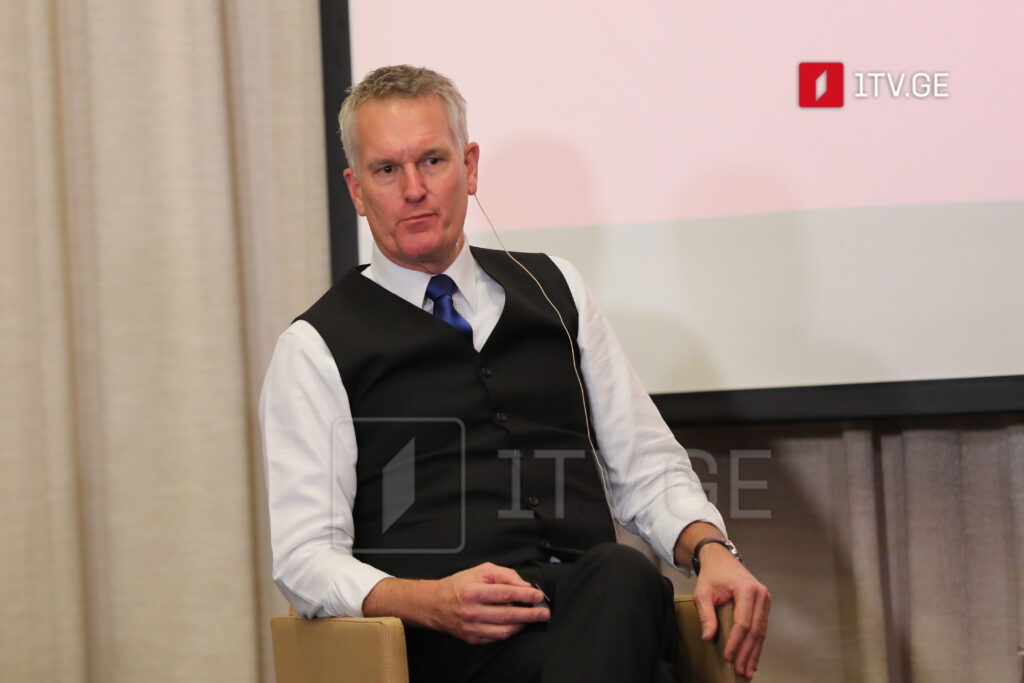 Ulrik Haagerup: Media company rarely puts constructive journalism forward in their strategy
Constructive journalism is a way of ensuring that we provide meaningful, sustainable, trustworthy journalism, storytelling to people to help democracy, stated Danish Constructive Institute CEO Ulrik Haagerup, who is visiting Tbilisi at the invitation of the Georgian Public Broadcaster.
Ulrik Haagerup is leading a constructive news conference in Tbilisi at the Radisson Hotel. Haagerup believes today's meeting is important not just for GPB journalists but also for public services and democracy in general.
"I'm so embarrassed by how little a lot of us Europeans know about this country just because it's further away than most countries we know about, how highly developed it is, how beautiful it is, and how kind people are. This meeting today is very important, not only for a journalist at the Georgian public service company but for public service and democracies around the world. It is very rare these days that a TV station or media company decides so forcefully to put the idea of constructive journalism forward in their strategy.
Constructive journalism is a way of ensuring that we provide meaningful, sustainable, trustworthy journalism and storytelling to people in order to help democracy. A lot of media companies in the world use journalism just as a product or as a weapon in a political struggle for their course.
Public service is much more important than that, and you have realized that. Constructive journalism tries to provide tools to fulfil that dream. The purpose is to glue society together. Coming to Georgia, it's also obvious that despite the fact you are a very beautiful and prosperous country, you are also very polarized in your political system. In contrast to a lot of other countries, it's not against the left or right. It's some kind of personal political struggle between persons, not even ideologies.
And it's also very dangerous if no somebody tries bridge building; if somebody really tries to be non-biased, pretty neutral, tries to facilitate a public debate about how this country can improve. That's what I see you want to try to do, and I'm sure, after meeting you yesterday, you will prevail," Ulrik Haagerup said.
The Constructive News Conference is being held in the Tbilisi Radisson Hotel. On the first day of his visit, Ulrik Haagerup held a workshop for GPB First Channel producers, editors, and journalists. The training encompassed both practical and theoretical knowledge exchange.
Eleven GPB journalists underwent training at the Constructive Institute in Denmark. By the end of the year, 18 GPB First Channel journalists will have graduated from the constructive journalism course.