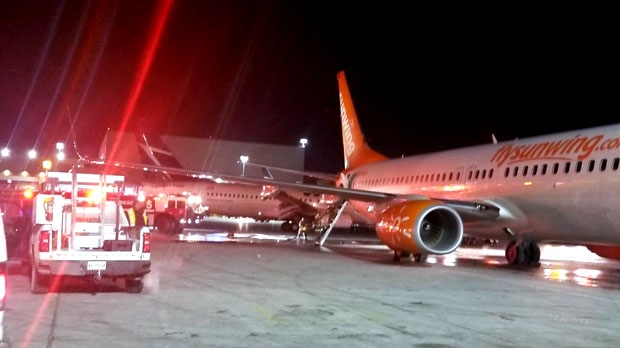 Two planes collide at Toronto's airport
Two jets collided on the ground at a Toronto airport on Friday, setting the tail of one aircraft alight and prompting passengers to evacuate the other via an emergency slide.
Both WestJet and Sunwing confirmed that their planes were involved in the collision at Toronto Pearson International, the second such incident at the airport in five months.
Video footage shared on social media appeared to show the tail of one aircraft aflame and spewing black smoke, and later images indicated that it was Sunwing's plane. "WestJet has confirmed that WS2425, a Boeing 737-800 with 168 guests and six crew onboard, inbound from Cancun to Toronto Pearson, while waiting to proceed to the gate and stationary, was struck by a Sunwing aircraft pushing back from the gate," it said on its Twitter account.
"Due to the position of the aircraft on the laneway, WestJet guests required evacuation via emergency slide. Emergency crews were on hand and responded immediately," the airline tweeted.
"We can confirm guests are safely in the terminal and they are in the process of clearing customs," it said, without specifying whether or not there were injuries. A post on the Sunwing Vacations Facebook page confirmed the collision, as reported by Arab News.