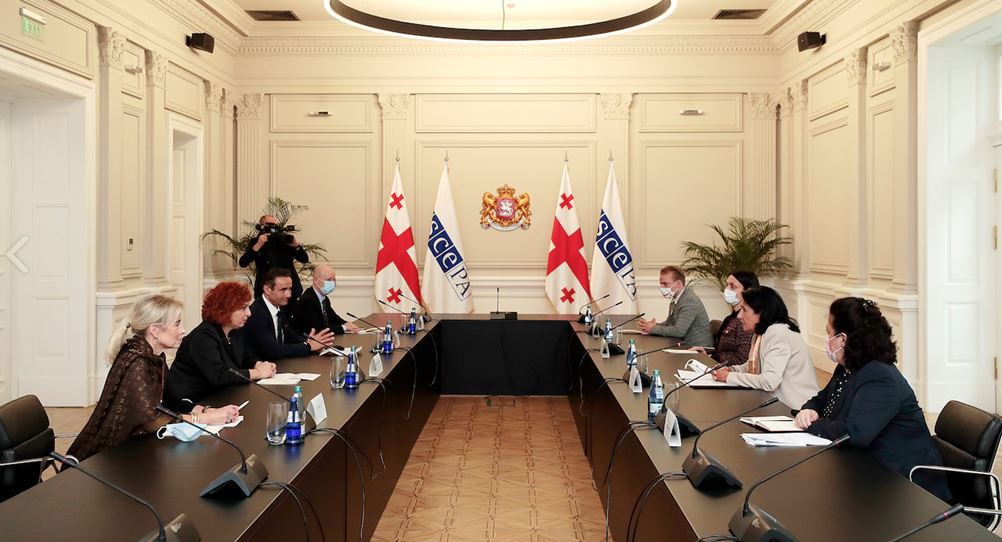 Salome Zurabishvili: Electoral environment is safe and free in Georgia
The President of Georgia, Salome Zurabishvili, held a meeting with the OSCE Parliamentary Assembly short-term observation mission at the Orbeliani Palace.
According to the Administration of the President of Georgia, the meeting was attended by Elona Gjebrea Hoxha, OSCE Special Co-ordinator and leader of the short-term OSCE election mission, the Head of the Delegation and A Special Representative on Civil Society Engagement Pia Kauma and the Secretary-General of the OSCE Parliamentary Assembly Roberto Montella.
The parties talked about the election process, discussed the directions and issues, the implementation of which has led to the consolidation of democratic processes in Georgia.
During the meeting, Roberto Montella underlined the positive development and strengthening of democracy in Georgia since 2012.
Salome Zurabishvili spoke about the importance of the parliamentary elections. On the conduct of the electoral process and the readiness to hold elections safely. President also stressed on the free electoral environment in the country.
"It is noteworthy that the electoral environment is calm and stable compared to the previous elections, "- said Salome Zurabishvili.
The participants of the meeting also talked about the challenges in the election process and the ways to solve them.