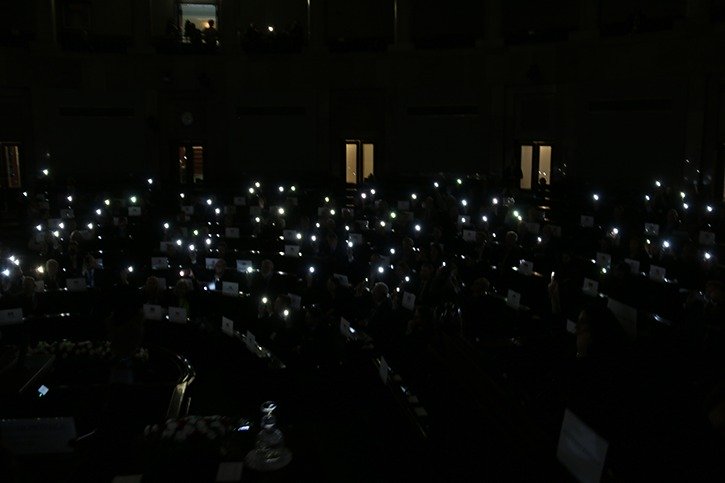 Lights turned off in Polish Sejm in solidarity with Ukraine
Lights were turned off in the Polish Sejm at the closing of the OSCE Parliamentary Assembly to express solidarity with Ukrainians who have lost power due to attacks on energy infrastructure, and OSCE parliamentarians observed a moment of silence.
OSCE PA Secretary General Roberto Montella, President Margareta Cederfelt and Head of the OSCE PA's Polish Delegation Barbara Bartus recalled the urgency of the discussions in Warsaw and the need to maintain clarity in messaging.
Secretary General Montella stressed that the PA has been consistent in its condemnations of Russian actions in Ukraine since 2014, and highlighted the continued attention that the PA is devoting to the issue.
OSCE PA Vice-President Pascal Allizard highlighted as a priority for the Organization the need to increase preparedness on a variety of issues such as food security and energy.
"The situation is dire," Allizard said. "We are witnessing on a daily basis destruction of vital infrastructure, isolated communities and enormous human suffering not only on the frontlines, but on both sides of the lines and in those territories that changed hands." He noted that for those providing humanitarian assistance, the challenges are significant.
President Cederfelt underlined the need to maintain unity of purpose in regards to the war in Ukraine and more broadly to defend the European security order established with the Helsinki Final Act of 1975.
Some 170 parliamentarians from 46 OSCE participating States gathered for two days of debates in Warsaw under the general theme of "The War in Ukraine: The Role of the OSCE and National Parliaments."