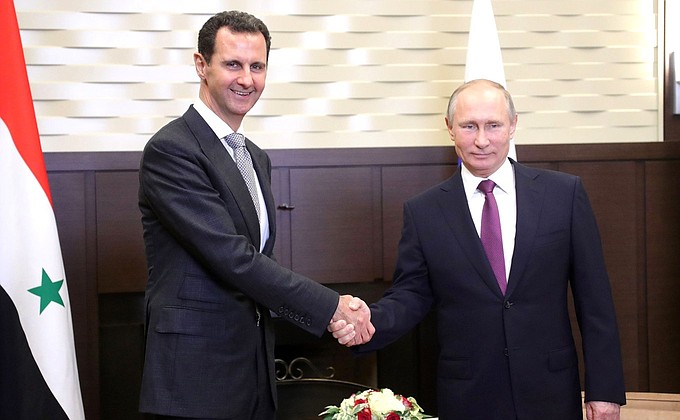 Putin, Assad Meet In Sochi, Discuss Syrian Peace Talks
Russian President Vladimir Putin held a meeting with Syrian President Bashar al-Assad in Sochi ahead of a resumption of negotiations this month on ending Syria's six-year civil war.
The meeting between the two allies on November 21 came a day before the presidents of Russia, Turkey, and Iran are scheduled to meet in Sochi on rebooting the peace process. UN-sponsored negotiations are due to resume on November 28 in Geneva.
In remarks broadcast on Russian television, Putin and Assad claimed after their meeting that they are now close to finishing their joint military campaign against terror groups in Syria, in an apparent reference to recent battles ousting the extremist group Islamic State from strongholds there.
"The military operation is really coming to an end," Putin said. "I think now the main thing is to move to political processes, and I am pleased to see your readiness to work with everyone willing to establish peace and find solutions."
Assad thanked Putin for providing support in the fight and said that with major battles now behind, he is ready to start forging a "political settlement" to end the war that has killed hundreds of thousands of people and displaced millions since 2011.
Putin said he intended to talk with the emir of Qatar, U.S. President Donald Trump, and Middle Eastern leaders after his talks with Assad, as reported by Radio Free Europe/Radio Liberty.
Putin asked for Assad's "view of the political process," which, he said, "as we see it, should be sponsored by the United Nations. We expect the UN to actively participate in the process, particularly during its final stage."