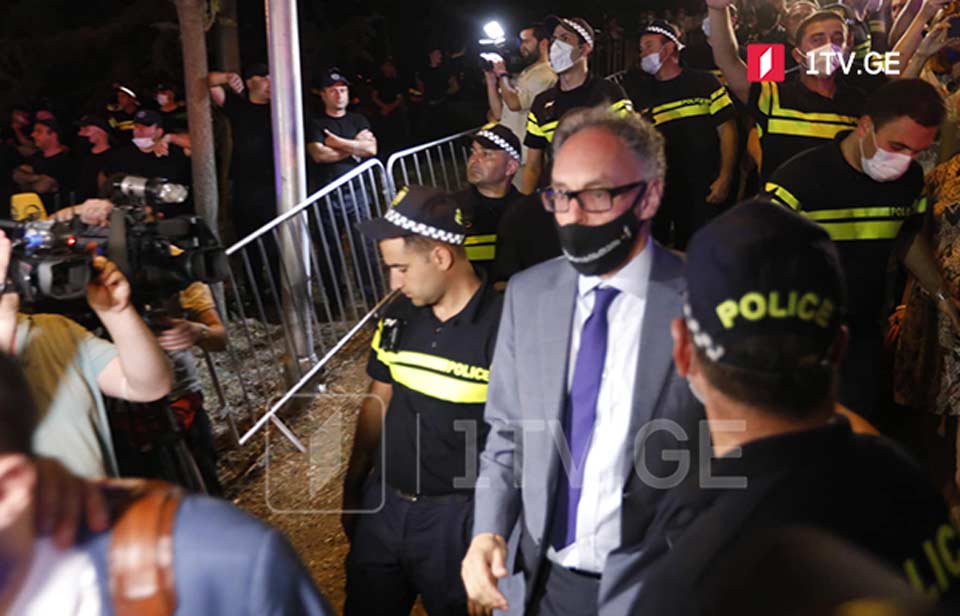 Protection of human right to be crucial, foreign ambassadors echo Tbilisi Pride Week kick off
Protecting human rights and expressing opinions freely are crucial, foreign ambassadors to Georgia claim following the Tbilisi Pride Week opening event held earlier amid skirmishes. Anti-Pride members clashed with police several times after hurling eggs and stones at event attendees.
British Ambassador Mark Clayton pledges the UK is a strong supporter of Georgia's progress and its applications to join the EU and NATO. Ambassador stresses that respecting human rights is at the core of both organizations.
"The UK was really proud to support tonight's event. It is absolutely right that everyone should have the freedom to gather and to be themselves. I think respect for human rights is absolutely critical. We are a strong supporter of Georgia's progress and its applications to join the European Union (EU) and NATO and respect the human rights is at the core of both of those organizations. Also, I want to pay gratitude to the police who provided security to this event so far and I hope that will continue," Mark Clayton underscored.
Pleased to attend ?? film screening in Tbilisi.?? LGBT+ community struggles to enjoy the same freedoms & equality as others. The right to live with dignity, free from violence & discrimination is universal. I commend authorities efforts in ensuring the film screening was peaceful pic.twitter.com/XCDG0wbAy9

— Mark Clayton (@MarkClaytonFCDO) July 1, 2021

German Ambassador Hubert Knirsch says everyone wishes for living in a country where human rights are protected, when opinions can be freely expressed, without fear of violence.
"People who want to be recognized as part of society, they want to be recognized as part of the Georgian nation. I think what they are doing is important for everyone in Georgia because anyone wants to live in a country where human rights are safeguarded and everybody can express their opinion freely and without fear of violence. I have the hope that all of this entire Pride week, including the Pride march, will take place without violence and fear on any side," Hubert Knirsch stated.
Israeli Ambassador Ran Gidor notes that clashes at today's event was unfortunate but expected. Ambassador hopes such events will be more acceptable in the future. "This is what we, the international community, are standing for," he said.
"All of us here, foreign ambassadors, and foreign diplomats, we are not here in order to protest against anything, we are here because we want to defend the Georgian Constitution and kind of equal rights that Georgians, as well as Israelis and people all over the world, deserve. What happened outside is very unfortunate but it was not unexpected. Unfortunately, in many countries, even in Israel where the Pride is becoming a routine event, even in my country the population groups that are still resistant to this kind of idea. Hopefully, what we see outside will become less violent year by year, and five years from now, we will not see anyone demonstrating outside, this is my hope," Ran Gidor stressed.
Tonight I was proud to attend the premiere screening of 'March for Dignity' at Khidi club. This was the opening event for the 2021 Tbilisi pride events (1-5th July) pic.twitter.com/LWVYdFMGBE

— Ran Gidor (@GidorRan) July 1, 2021
French Ambassador Diego Colas thinks Georgia is transforming itself into a country that cares deeply about individual rights, something western partners passionately care about.
"It is a screening of a very exciting and inspiring movie. It is a story about the rights of the LGBT community but it is a broader story about human rights in general. I think there is a wonderful story happening in Georgia, which is Georgia transforming itself in a country that cares deeply about individual rights, about diversity, about modernity, about European style development. This is something we passionately care about and we are western partners of Georgia, keen to help the country on this way. This march is very much about the transformation of Georgia into a modern, European country," Diego Colas declared.
Beautiful event, inspiring movie about ?️‍? rights and more broadly about HR, diversity, modernity in ??.
Very professional handling of the evening by law enforcement.
Congratulations to all. https://t.co/GGjAyrtOYc

— Diégo Colas (@ColasDiego) July 1, 2021
Tbilisi Pride Week kicked off amid high tension as Pride opponents and police clashed several times in the vicinity of the Pride Week event in the Georgian capital. The opponents tried to enter the territory allocated to premiere a documentary as part of Pride Week. They also pelted the event area with eggs and stones. The anti-Pride members tried to reach the event territory and block the road. Ministry of Internal Affairs (MIA) reported detaining eleven of them for police disobedience.
Pride Week is taking place in Tbilisi on July 1-5. Tbilisi Pride, Shame, Women's Movement, and GrlzWave organized various cultural and social activities within the framework of Tbilisi Pride Week.