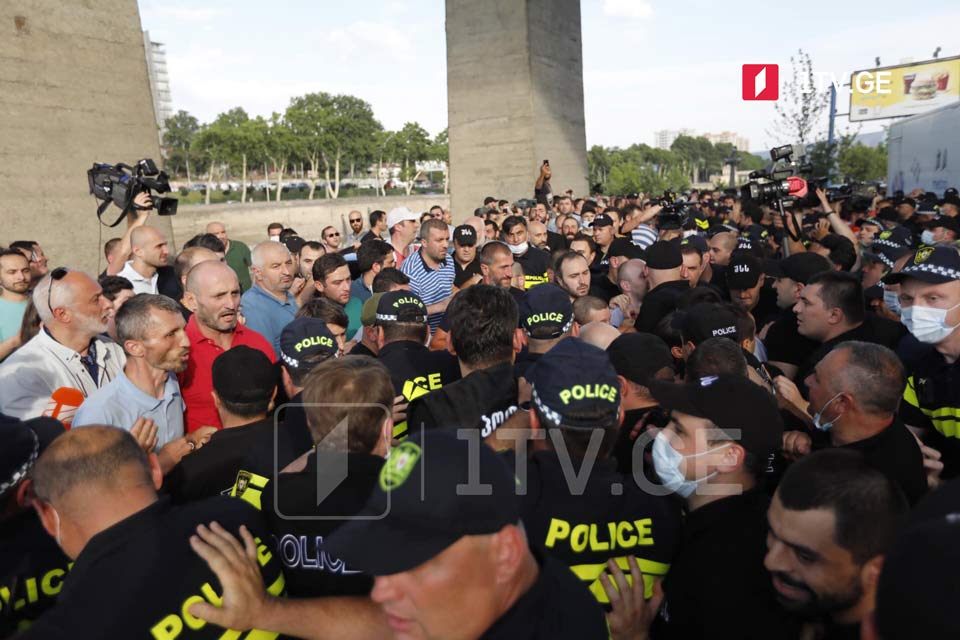 Tension mounts as Tbilisi Pride opponents clash with police
Opponents of the Tbilisi Pride and police clashed in the vicinity of the Pride Week event in the Georgian capital on Thursday.
The tension mounted several times after opponents tried to enter the territory allocated to premiere a documentary as part of Pride Week. They also pelted the event area with eggs and stones. The anti-Pride members tried to reach the event territory and block the road. Ministry of Internal Affairs (MIA) reported detaining eleven of them for police disobedience.
Patrol Police Chief Vazha Siradze urges citizens to obey the law and protest peacefully.
"Everyone has the right of freedom of expression. We urge people to avoid going beyond the law," Patrol Police Chief stressed. He added that the police would continue to maintain public order.
Representatives of the diplomatic corps arrived at the Pride Week event via a police-made corridor. The tension remains high as opponents continue to hurl bottles and eggs at event attendees.
The first event of Tbilisi Pride Week has just started.
Pride Week is taking place in Tbilisi on July 1-5. Tbilisi Pride, Shame, Women's Movement, and GrlzWave organized various cultural and social activities within the framework of Tbilisi Pride Week.
This developing story will be updated.