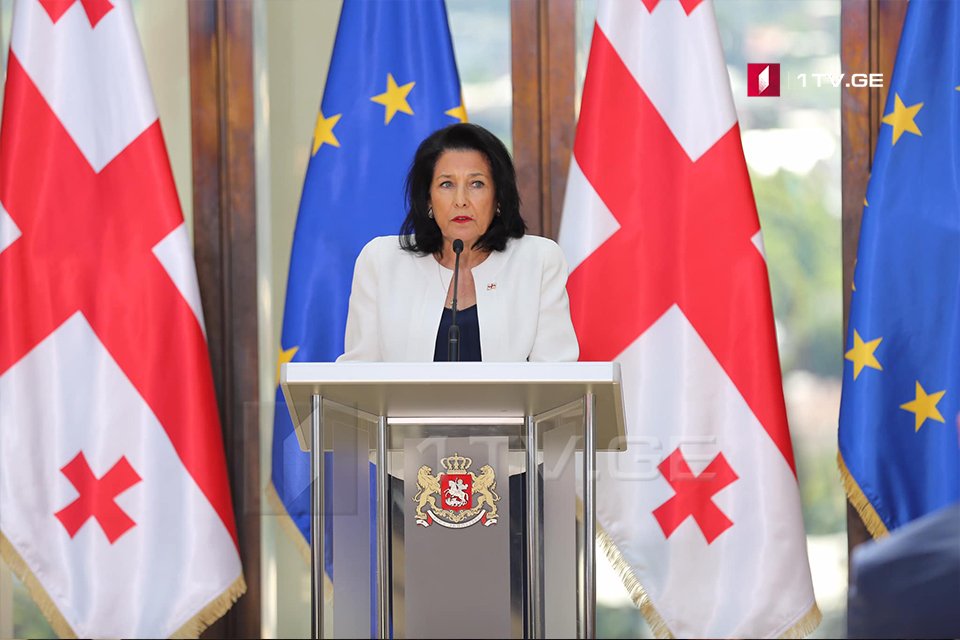 President Zourabichvili says no one worth to challenge children's European future
"Pushing this process ahead (EU integration), we should cling to neither Saakashvili (jailed ex-president), Gvaramia (jailed Mtavari TV Head), nor Bidzina Ivanishvili (GD founder). No one's worth a dime for not defending the future of our children. For that, I will return to Georgia and protect that very future there," Georgian President Salome Zourabichvili stated in Brussels.
The President has pledged to return from a trip overseas to defend the Georgia's European future after she said the government hindered her from visiting European countries, including Ukraine.
"I am in Brussels, after my official Italy visit, to spare my last efforts with the EU leadership to support our candidacy. Unfortunately, the [EP] resolution [Violations of media freedom and the safety of journalists in Georgia] and the follow-up remarks by the ruling team [GD] do not allow me to defend our candidacy efficiently today.

I fancied to visit France, Poland and likely Ukraine – we are engaged in the same process – and we should be grateful for them as this process would not be revved up without them. But, I had got another refusal on this trip. After rejection, I was told that the [Georgian] government had already done everything to back our candidacy, and no more action was needed. I considered it was probably not advisable… That is not a case where I alone can recover the whole government's inaction.

I believe I am responsible before the Constitution, as Article 78 obliges me to make every effort to move this process forward. I see no other future for Georgia rather than a European one," the President asserted.