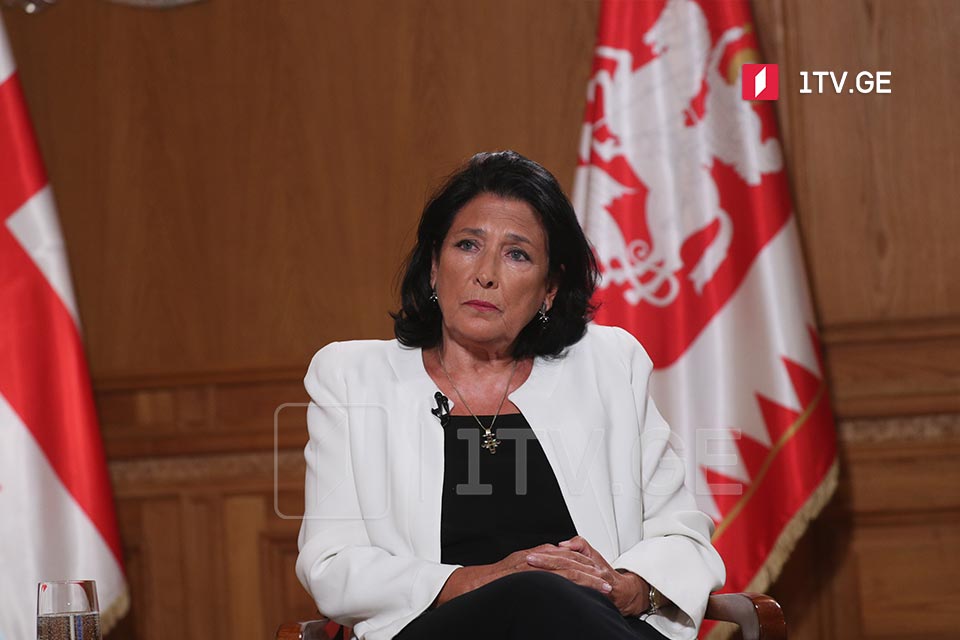 President Zourabichvili: As MEPs visit Georgia, spokesmen in Brussels and Washington tell us to learn how to behave
Georgian President Salome Zourabichvili Thursday gave an interview to GPB First Channel's Dgis Tema [Topic of Day] program, lambasting the government.
The President said, "as MEPs' delegation arrives in Georgia, an incredible thing happens, the press spokesmen in Brussels and Washington, one after another, tell us that we have to learn how to behave."
"I don't know how far we should continue this kind of double-dealing as it seems we aspire to the European Union, the EU candidate status, but at this time, we are not working towards 12 points [by European Commission]," she underscored.
Alluding to the government's "counter-moves", Zourabichvili named the cancellation of Charles Michel's document [Apirl 19 Deal], and turning down the credit [a 75-million-euro loan] "pretty rudely," among others.
Zourabichvili also said that "it is not right that we are, I guess, the only country in the world that sometimes argue with the European Parliament, the US ambassador, with other ambassadors in this tone."
For the record, the ruling Georgian Dream party Chair Irakli Kobakhidze on July 20 said the EU Ambassador to Georgia Carl Hartzell "unfortunately played a strictly negative role in relations between the European Union and Georgia."
European Commission spokesman Peter Stano today tweeted that "delivery on reforms and EU agenda is a task for domestic politicians. Blaming others for own unfulfilled ambitions only confirms the need to have more time to understand how EU works and that reforms are homework."
Georgia: Delivery on reforms & EU agenda is task for domestic politicians.Blaming others for own unfulfilled ambitions only confirms the need 2have more time 2understand how 🇪🇺 works & that reforms are a homework. EU fully supports @CarlHartzellEU who did great job 4 🇪🇺🇬🇪 ties!

— Peter Stano (@ExtSpoxEU) July 21, 2022
Earlier, the Spokesperson for the U.S. Department of State, Ned Price, said, "disinformation and personal attacks on Ambassador Degnan or her team are not consistent with how partners communicate with one another, and we will continue to focus on supporting our shared goals."
The @StateDept fully supports Ambassador Degnan and her @USinGeo team. They are committed to working with the people of Georgia to further their Euro-Atlantic aspirations and continue to support peaceful efforts to end Russia's occupation of 20 percent of Georgia's territory. pic.twitter.com/jvy58IJSCY

— Ned Price (@StateDeptSpox) July 20, 2022