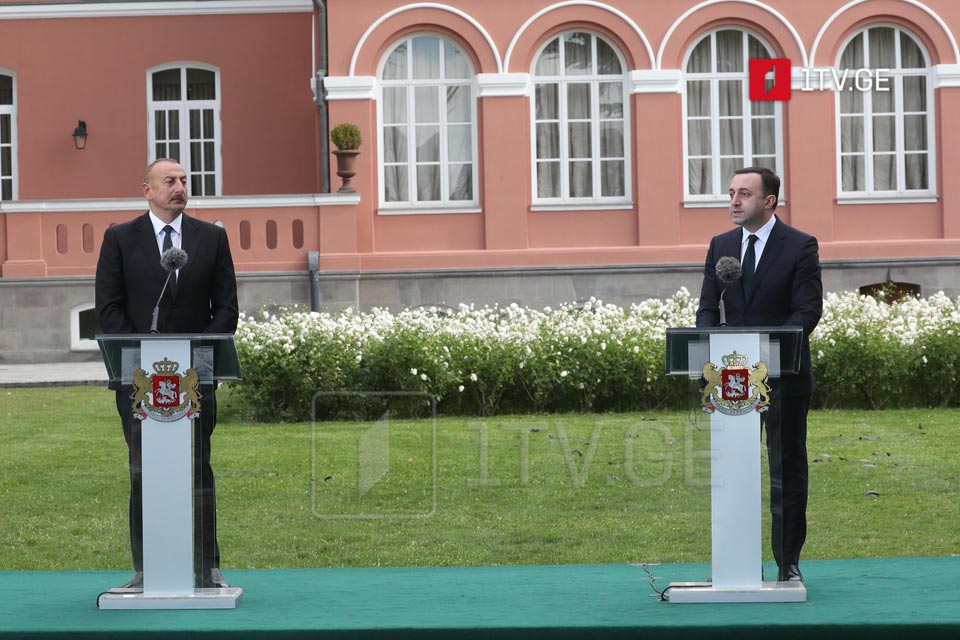 PM says Georgia's Peaceful Neighbourhood Initiative does not contradict or replace any other cooperation format, but is beneficial
PM Irakli Garibashvili on Monday stressed that Georgia's Peaceful Neighbourhood Initiative does not contradict or replace any other cooperation format, "on the contrary, it will be beneficial, and I believe we will do many significant things together."
During a joint press point with Azerbaijani President Ilham Aliyev, Georgian Prime Minister said, Aliyev's visit was "of great importance," saying the meeting covered many issues related to the strong partnership and cooperation between the countries.
The duo also reviewed the regional challenges. Alluding to the Russia's war in Ukraine, Garibashvili said, negotiations should regulate current developments in Ukraine.
"In the face of rapidly changing and complex challenges in the region and the world, peace and stability, the key factors for the well-being of our region and our peoples, have crucial importance."
We also touched on the current situation in the region, including the recent agreement between Azerbaijan and Armenia to begin peace talks.
I'd want to reiterate that Georgia, myself, and our administration are fully prepared to maintain and support the peaceful policy that we've begun together," Garibashvili emphasised.
Ilham Aliyev has arrived in Georgian capital Tbilisi this morning for a working visit.
After viewing the Heritage of Karabakh Khanate exhibition at Château Mukhrani, Mtskheta Municipality, Aliyev and PM Garibashvili have made press statements.