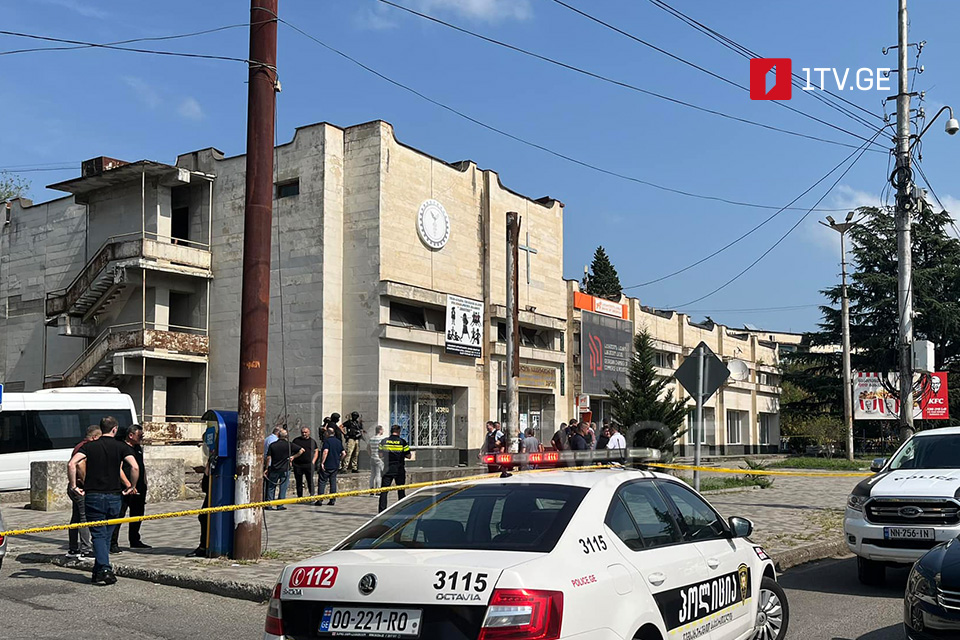 Developing Story: Armed man holds hostages at bank in Kutaisi
17:56: Reportedly, several hostages have been released from the branch of the Bank of Georgia (BoG) in Kutaisi, though the Ministry of Internal Affairs (MIA) has not yet officially commented on the ongoing police operation.
17:32: Currently, Georgian Minister of Internal Affairs Vakhtang Gomelauri is in Kutaisi, at the Bank of Georgia (BoG) premises where a police operation is underway. He has not yet spoken to the media.
15:12: Video, posted by a hostage on the social network, shows an armed robber demanding a helicopter, a fishing rod, and the Russian flag plus $2,000,000.
13:55: The Ministry of Internal Affairs (MIA) reports that 12 people are being held hostage at the Bank of Georgia (BoG) branch on Shota Rustaveli Avenue in Kutaisi. MIA takes steps to ensure the hostages' safety. MIA launched an investigation on charges of hostage-taking for terrorism and illicit weapon possession and carrying.
13:00: The attacker, who broke into the Bank of Georgia branch in Kutaisi, demanded $2,000,000 within three hours. Two hostages are believed to have been freed as the police operation continues.
12:10: The police operation is ongoing in Kutaisi. According to the Ministry of Internal Affairs, preliminary reports show an armed individual broke into the branch of the Bank of Georgia (BoG) on Shota Rustaveli Avenue. The police immediately cordoned off the area.
"Law enforcement officers mobilized to the scene are presently conducting all necessary and urgent procedures, as well as investigative and operational activities," MIA reports. The agency called on media representatives and citizens to observe safety standards and follow the instructions of police officers on the spot.