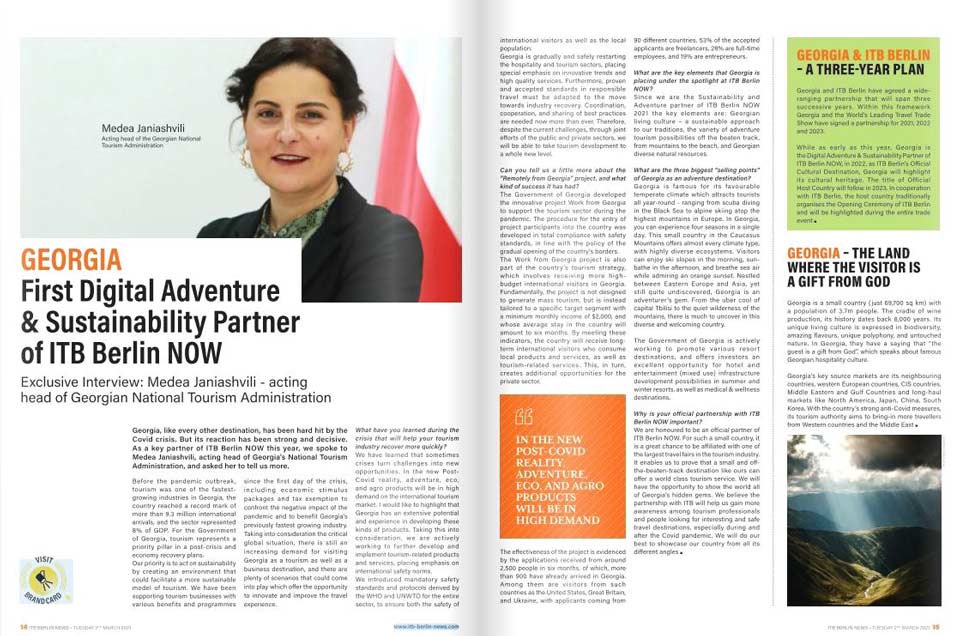 ITB Berlin magazine on Georgia
The magazine of ITB Berlin, the world's leading travel trade show, published an interview with Medea Janiashvili, acting Head of the National Tourism Administration of Georgian Ministry of Economy and Sustainable Development.
This year, Georgia will participate in the travel trade show in the status of a partner country in direction of adventure and sustainable tourism.
According to Medea Janiashvili, Covid-19 pandemic hit hard Georgia's tourism and the country's economy. Restoration of tourism is the priority of the Georgian government in the post-crisis period.
"Our goal is to create an environment where we can contribute to the formation and development of a sustainable model of tourism. Since the beginning of the crisis, we have been supporting the tourism business through various programs: This is an economic stimulus package, tax exemption.  We aim to deal with the negative impact of the pandemic so that tourism industry can benefit and grow rapidly again. Amid the global crisis, demand on tourism and business directions in Georgia is growing," Medea Janiashvili said in the interview.
Georgia will be a host country at ITB Berlin, the World's Leading Travel Trade Show, in 2023, the National Tourism Administration reported.
Georgia will gain access to more than 1 billion people within the framework of this victory. Besides, Georgia will receive 37 million euros worth PR and marketing support from the exhibition organizers.