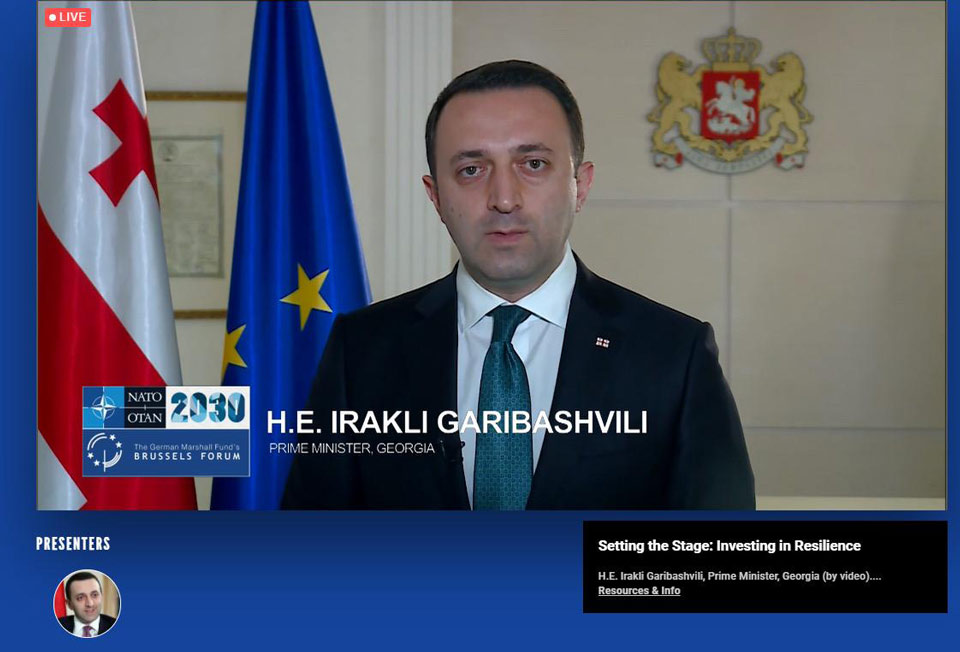 Irakli Garibashvili, key-note speaker at Brussels Forum, joins global leaders and addresses forum's delegates
Not only my country, but countries of the region, of Europe and beyond have been subjected to the emerging security threats, and are looking into ways to protect themselves, Georgian Prime Minister Irakli Garibashvili said in his speech at the Brussels Forum bringing together global leaders. Press Service of the Government Administration reported.
Held under the 14-18 June NATO Summit, the Brussels Forum features Irakli Garibashvili as Key-Note Speaker, alongside NATO Secretary General Jens Stoltenberg and other global leaders, including Turkish President Recep Tayyip Erdogan, Canada's Prime Minister Justin Trudeau, German Chancellor Angela Merkel, Belgian Prime Minister Alexander De Croo, Estonian Prime Minister Kaja Kallas, Greek Prime Minister Kyriakos Mitsotakis, and Slovakia's President Zuzana Caputova.
The Head of the Georgian Government pointed out the ongoing systemic and value competition marked by growing attacks of authoritarianism on democracy.
"The turbulent times we are living in are characterized by extraordinary challenges to the rules-based international order founded on principles of international law and multilateralism… Whereby certain actors directly challenge or covertly undermine this system – a system which is called to make our world more predictable, to resolve disputes in a peaceful manner and to maintain security for the nations, notwithstanding their size or geographic location. As such, we are witnessing an ongoing systemic and value competition, marked by the growing attacks of authoritarianism on democracy. Variations of hybrid warfare have become especially pertinent markers of the mentioned competition and democracies find themselves on the receiving end, oftentimes vulnerable and exposed. It requires awareness, unity and coherent, thought-through and creative approaches to push back and defend against these new challenges," Irakli Garibashvili said.
The Head of Government, in commenting on the North Atlantic Alliance's Summit, stated that the Alliance is best equipped to pull together knowledge and resources to fight against said threats.
"It is symptomatic that the NATO Summit taking place in Brussels as we speak, focuses on the issues of hybrid threats and resilience, as NATO with its potential to adapt, is best equipped to pull together knowledge and resources to fight against the mentioned threats. Long before the hybrid threats featured prominently in the discourse of our international partners and academics, Georgia has experienced firsthand their destructive nature. From the day Georgia regained its independence it has been subjected to economic, energy and trade blockades, cyber-attacks, information warfare and other types of non-conventional, as well as conventional warfare. With 20% of Georgia still occupied by Russia and used as a launchpad for its destructive policies, these hostile actions continue to this day. Notably, not only my country, but countries of the region, of Europe and beyond have been subjected to the emerging security threats, and are looking into ways to protect themselves. Hence, it is crucial for like-minded states to join forces and share tools and experience to build the resilience, which has become a crucial concept not only in military, but much broader terms – the resilience of societies, founded on the shared principles of human rights, rule of law, good governance and market economy," the Prime Minister underlined.
Even the strongest Western democracies find it difficult to deal with these new challenges, Irakli Garibashvili added.
"I am proud to note that Georgia has shown remarkable resilience throughout difficult times and has learned a thing or two about how to counter them. Strengthening Georgia's democratic institutions, boosting economic development and pursuing modernization are some of the important endeavors that we pursue to be more resilient in the face of the external threats," the Prime Minister stated.
According to Irakli Garibashvili, it becomes evident that the complex nature of modern hybrid warfare calls for joint effort and support from our partners.
"In that context, it is important that NATO Summit 2021 focuses on the NATO-2030 agenda, which will become a basis for the new strategic concept of the Alliance. Issues such as modernizing capabilities, reinforcing collective defense through increased readiness, developing Alliance-wide resilience objectives, as well as supporting resilience of partners, are identified as key issues in the NATO-2030 document. We also welcome that reinvigoration of the NATO Open Door policy is one of the key recommendations produced by the document and hope for the effective continuation of the policy in the years to come. For years NATO has been actively investing and engaged in the resilience-building efforts in Georgia. We are committed to further deepening cooperation with NATO in this direction. For aspirant Georgia this agenda is all the more pertinent, as we prepare ourselves for the membership in the Alliance. Because the more resilient each like-minded partner and each member is, the stronger NATO is. And this is the only way to prevail in the battle of systems of values for freedom and peace-loving nations," Irakli Garibashvili concluded.
The Brussels Forum comprises thematic panels. The Head of Georgian Government delivered a speech as part of the Investing in Resilience panel focusing on the importance of investing in integrated and coordinated sustainability approaches among the NATO Allies.
The list of the panel's speakers also included US Representative Gerry Connolly and the Atlantic Council's Director for Northern Europe Anna Wieslander.