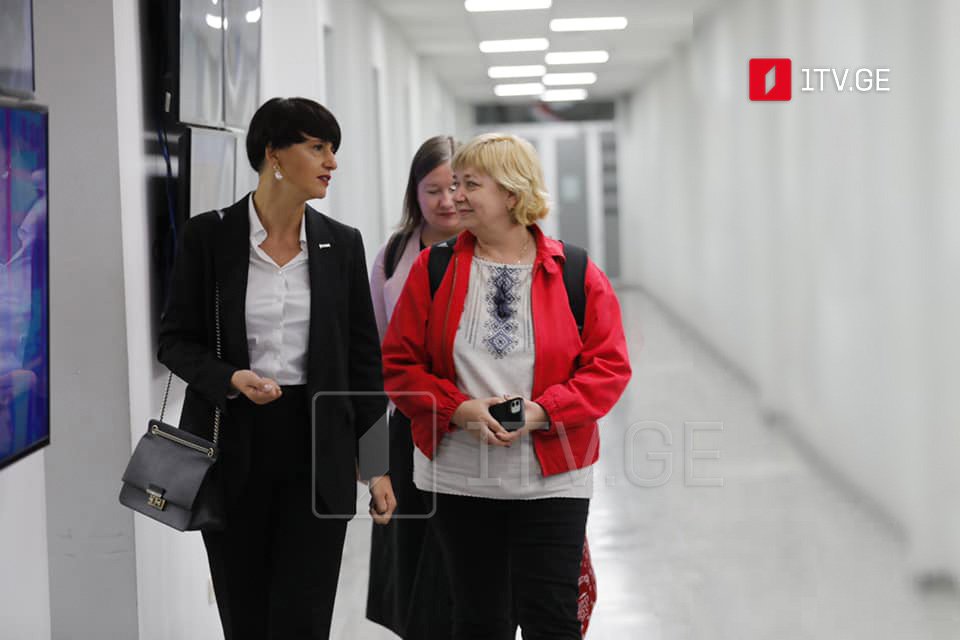 GPB hosts Ukraine's media managers
Tinatin Berdzenishvili, Director General of the Georgian Public Broadcaster (GPB), and Vasil Maglaperidze, Chair of the Board of Trustees, hosted Svitlana Ostapa, Head of the Supervisory Board of the Public Broadcasting Company of Ukraine (UA: PBC), and Galina Petryk, Head of Ukraine's Media Monitoring Agency, at the Georgian Public Broadcaster on Wednesday.
The executives reviewed the existing tight collaboration between Georgian and Ukrainian broadcasters, as well as future joint initiatives, at the meeting.
"Seeing our Ukrainian friends, colleagues, and associates in Georgia is always essential to us. I won't say anything further regarding the Georgian Public Broadcaster's collaboration with the Ukrainian Public Broadcaster since the beginning of the war. A tremendous quantity of general support was extended too, both morally and technically. We are proud of and value our friendship. Today we spoke about deepening these contacts, making innovative ideas, and what can be done to get verified information from the primary source, Ukraine," Tinatin Berdzenishvili said.
Following the meeting, Svitlana Ostapa, Head of the Supervisory Board of UA: PBC, stated that the public broadcasters of Georgia and Ukraine shared their experiences.
"At the meeting, we exchanged our experiences. It was quite comforting to learn that we are family. We support one another, which is critical for Ukraine. Georgia was involved in a conflict with Russia, and you know well what Russia is: a terrorist state that can bomb civilians only for its own benefit. We in Ukraine appreciate Georgia's and the Georgian Public Broadcaster's help," Svitlana Ostapa remarked.
Furthermore, according to Vasil Maglaperidze, Chair of the GPB Board of Trustees, the parties addressed future plans at the meeting.
"GPB works closely with the Public Broadcaster of Ukraine. We have partnership relationships in this challenging environment. We had a really business-like and fascinating encounter. Let's plan now for how to contribute as little as possible to the spread of lies and misinformation. We also spoke about the supervision activities and our experiences there. We are members of a large family and are incredibly close friends," Maglaperidze said.
Throughout the war, the Georgian Public Broadcaster works closely with the Ukrainian Public Broadcaster, handling numerous initiatives to support Ukraine.