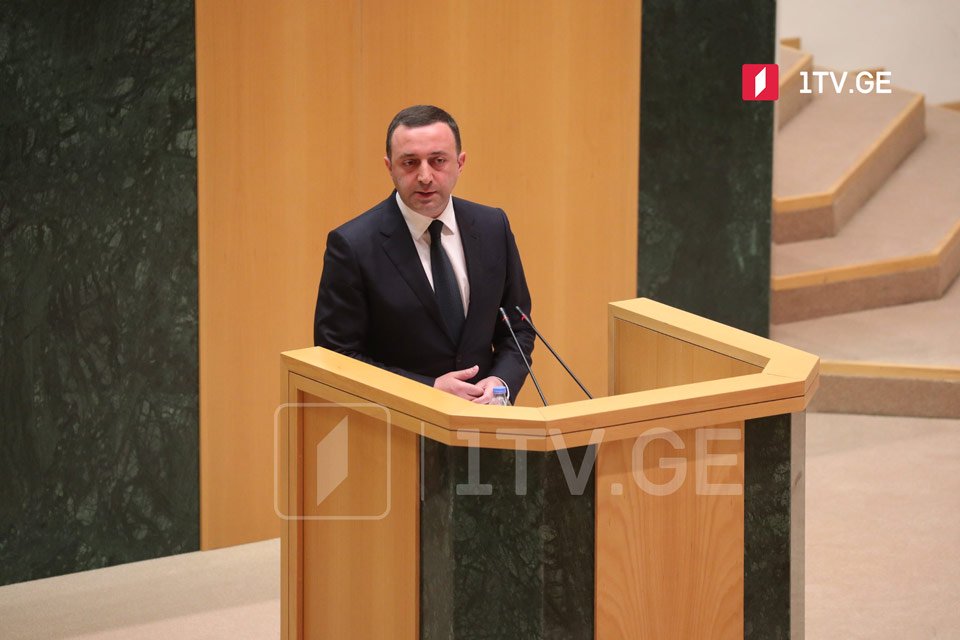 Georgia's supportive statements, declarations, decisions over Ukraine reach 235 since February, PM says
Georgia's diplomatic missions in the international organizations constantly express their support for Ukraine, said Georgian Prime Minister Irakli Garibashvili in the Parliament.
The PM reviewed the moves Georgia has been taking to back Ukraine, saying Georgia was among the 96 UN member states that co-sponsored the resolution on Aggression against Ukraine. It was among 90 co-sponsors of the UNGA Resolution on humanitarian consequences of the Russian aggression in Ukraine; The country also backed invoking OSCE Moscow Mechanism over Ukraine. Georgia was along with 92 other countries supporting the suspension of Russia from the United Nations Human Rights Council.
Garibashvili continued: On the second day of the war in Ukraine, Georgia supported the decisions of the Committee of Ministers of the Council of Europe on February 25 to suspend the Russian Federation from its rights of representation in the Council of Europe and to expel the Russian Federation from the Council of Europe immediately on March 16. Georgia was among the countries requesting an ICC war crimes inquiry.
"In total, since February, the number of our statements, declarations and decisions to support Ukraine in international organizations has reached 235.

Within the UN, Georgia supported and sponsored 14 resolutions on Ukraine, made over 50 national statements and joined 34 EU statements and ten other statements. We have also joined 15 different support initiatives.

Within the OSCE, we have made more than 30 national declarations. Our government has joined 34 EU declarations and one joint declaration. Georgia has also joined 3 different support initiatives.

Within the Council of Europe, Georgia supported 14 resolutions, decisions and recommendations on Ukraine. At the same time, Georgia made 15 national statements of support of Ukraine.

On behalf of the European Union, we joined 8 declarations and two EU sanctions," he said.
The PM noted that Georgian diplomatic missions in Kyiv, Odesa and Lviv continue to operate and assist citizens.
"From this parliamentary tribune, I would like to thank our ambassador and each representative of our embassy.

Georgian financial sector received an instruction from the National Bank of Georgia on the obligation to fulfil the requirements provided by the sanctions," Irakli Garibashvili asserted.