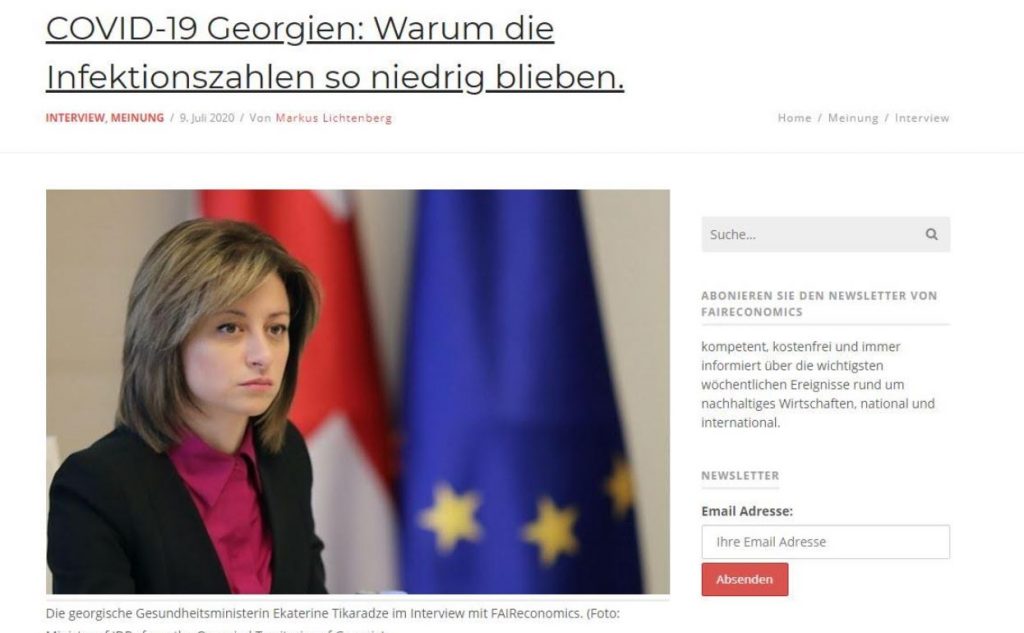 Georgian Health Minister gives an interview to Fair Economy
The German publication – Fair Economy – has published an interview with Georgian Minister of Health Ekaterine Tikaradze on Georgia's successful management of COVID-19.
Fair Economy was interested in Georgia's strategy to respond to the COVID-19 pandemic.
The article focused on the specially created groups to fight COVID-19. The Georgian Minister also emphasized the strategic importance of Richard Lugar Center for Public Health Research and National Center for Disease Control and Public Health of Georgia (NCDC).
Ekaterine Tikaradze pointed out that Georgia has rightly assessed the risks regarding the novel virus and used all mechanisms to hinder its spread inside the country.
Speaking of Georgia as a safe country for tourists, Tikaradze stressed that since April, Georgia has started virus stabilization and in parallel with the decrease of the virus reproduction rate, the process of gradual removal of restrictions has kicked off.
The Health Minister added that easy access to regular PCR testing allows the visitor to safely conduct business negotiations or other activities without being in quarantine.
The article is published by the Ministry of Health.