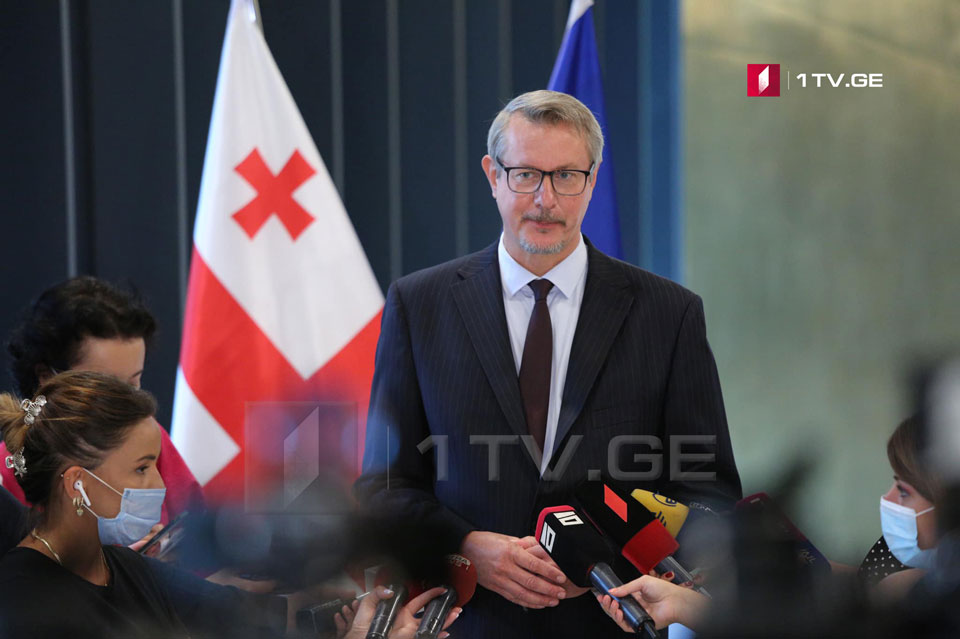 EU Ambassador meets MP Tea Tsulukiani
EU Ambassador to Georgia Carl Hartzell and MP Tea Tsulukiani met behind closed doors at the parliament on Thursday.
Tea Tsulukiani, Chairwoman of the Education Committee of the Georgian Parliament, declared after the meeting with EU Ambassador that a position voiced by Carl Hartzell yesterday was his personal view.
"Mr. Hartzell arrived at the Parliament of Georgia under my invitation regarding his yesterday's statement. This meeting was interesting, important, and fruitful because it clarified that his statement regarding me and my political statement is his personal opinion and not the position of the European Union," Tea Tsulukiani said.
"Tea Tsulukiani was not pleased with my yesterday's comments, and we had a chance to discuss this to make sure that both sides understand each other's positions," Carl Hartzell told journalists after the meeting.
EU Ambassador praised the meeting, refused to speak about the details, and added that he stands by his yesterday's statement.
"I stand by my statement," Carl Hartzell said. "For me, an issue like this is about a much broader issue about the tonality in political life. That's something that I care about a lot how it has been portrayed in media. My point is about the tonality of the political discourse, which is so important. It should not come as a surprise that I hold certain views with regard to how the political discourse should happen," EU Ambassador said.
The meeting was at least partly related to Carl Hartzell's statement yesterday regarding the public disclosure of a phone number of Mtavari Arkhi director Nika Gvaramia's phone number by Tea Tsulukiani. Tea Tsulukiani responded to the ambassador's criticism on the social network.
"I would like to host Ambassador Hartzell in the Georgian parliament to discuss his statement about me (a member of Georgian parliament)," Tea Tsulukiani stated.
EU Ambassador evaluated disclosure of the private phone number of Mtavari Arkhi's Director Nika Gvaramia by MP Tea Tsulukiani as an unpleasant surprise.
"Well, I have to be cautious, but at the same time, I can be very open to telling you when I saw this yesterday, I found it a very unpleasant surprise. We all know the right to privacy is a fundamental issue, and I find this unethical whether this goes beyond my own reflections, it is not for me to judge," Carl Hartzell declared.