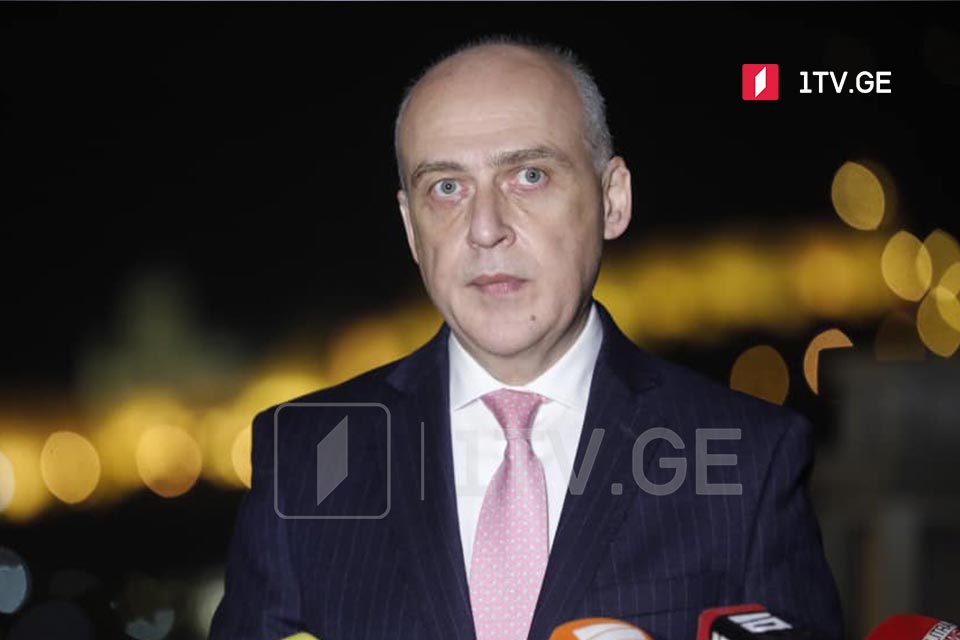 David Zalkaliani: Euro-Atlantic integration is our people's choice 
The Minister of Foreign Affairs, David Zalkaliani, said western partners are not considering the revision of Bucharest Summit decisions on Georgia.
Western partners have confirmed that they are loyal to their position, the Minister stressed.
"Irrespective of how events unfold, we need to remain consistent. Georgia's full-scale integration with the Euro-Atlantic structures is our choice. This is the Georgian people's civilized choice, which is enshrined in our constitution. As the government, we will do our utmost to consistently uphold this position. There will be no revision. And I confirm this, based on the meetings I have had. I mean not only the meetings conducted in Brussels and the Baltic countries but also telephone conversations prior to my visit to Brussels, including my telephone conversation with the United States Deputy Secretary of State who confirmed that there will be no revision.  This communication took place before the negotiations, after which I had opinion exchanges with United States Assistant Secretary of State, who also reaffirmed that they are firm and consistent in their position. Based on the talks and communication I have had with the U.S. as our strategic partner, as well as with our NATO partners, the Secretary General, the Deputy Secretary General, I can confirm that our western partners remain consistent and are not going to depart from this position," Zalkaliani underscored.
As the Foreign Minister told GPB First Channel, "the entire civilized world and the international community are united in their decision."
"There is the civilized international community, including Georgia and Ukraine, sharing the same attitudes and positions, on the one hand, and on the other, there is the Russian Federation acting in defiance of its international obligations. That's where the problem lies.  And this is not the newly emerged problem. We were all witness to the occupation of Georgia and to how the events have unfolded since then leading to the annexation of Crimea. So, nothing can be ruled out.  I do hope, however, that the international community's united efforts and consistent positions will yield their results in the sense that we will no longer need to face the infringements of the fundamental rights of the sovereign states and the principle of territorial integrity," Zalkaliani pointed out.