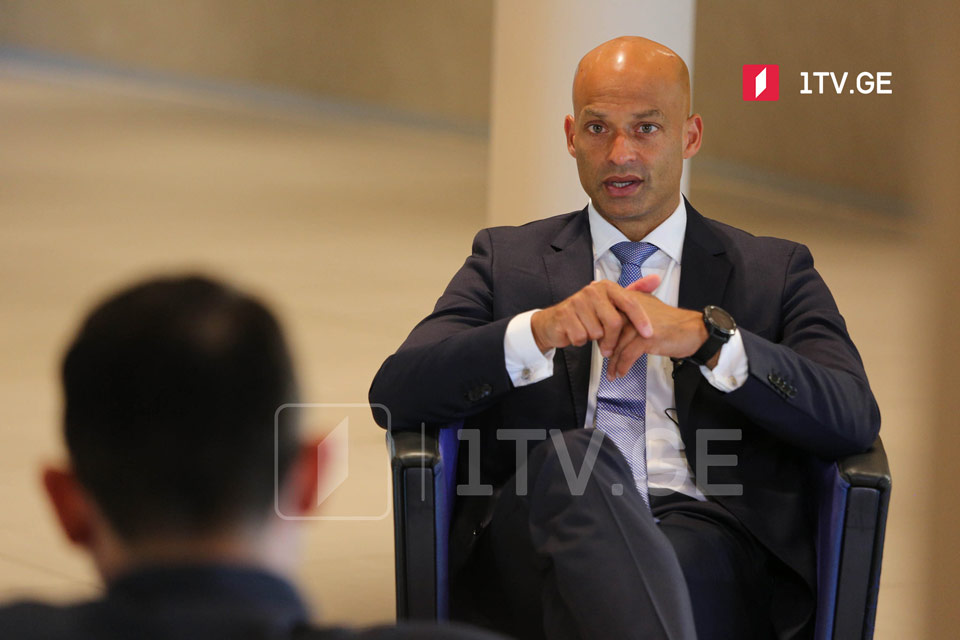 NATO's Appathurai says the alliance never accepts the Black Sea to be Russia's and maintains presence to support partners
One of the issues to discuss in Georgia is how to deepen NATO-Georgia cooperation in the Black Sea security further, NATO Secretary General's Special Representative for the Caucasus and Central Asia, James Appathurai, told Georgian Public Broadcaster (GPB) in an exclusive interview.
NATO Secretary-General's Special Representative informed that the United Kingdom briefed NATO allies on what had happened in the Black Sea. So, the alliance has an accurate picture of what happened.
"NATO allies are firm when it comes to a couple of things, freedom of navigation and the fact that Crimea is Ukraine and not Russia. And what you saw in this incident is NATO allies being very firm in maintaining those principles. And, I think the Russians have to recognize that allies are very clear on this, and they don't back down. I understand that that ship (HMS Defender) ended up here in Georgia. So, it's part of an overall allied commitment to security in the Black Sea, but also to principles that are important in this region," James Appathurai told GPB.
NATO Secretary-General's Special Representative also said that it was clear that Russia continues to destabilize this region. Adds evermore weapon systems into Crimea and including high-end weapon systems, including missile systems, which make freedom of navigation more complicated.
"We are working more closely with Georgia and Ukraine in terms of political consultation and exchange of information. Then you also see the more military presence of NATO in the Black Sea area, including our standing maritime groups that we move in here. Also, allies are doing on an individual basis, but this is all coordinated. So you see UK forces here, French flying, United States regularly bring ships, and the Russians dislike it every time, but we continue to do it. We certainly don't accept that this is a Russian sea. We will maintain a presence here for our allies to support our partners. One of the issues that we'll be discussing here is how to deepen our cooperation with Georgia further when it comes to Black Sea security. And these will be practical steps along the lines that we just discussed," James Appathurai told GPB.