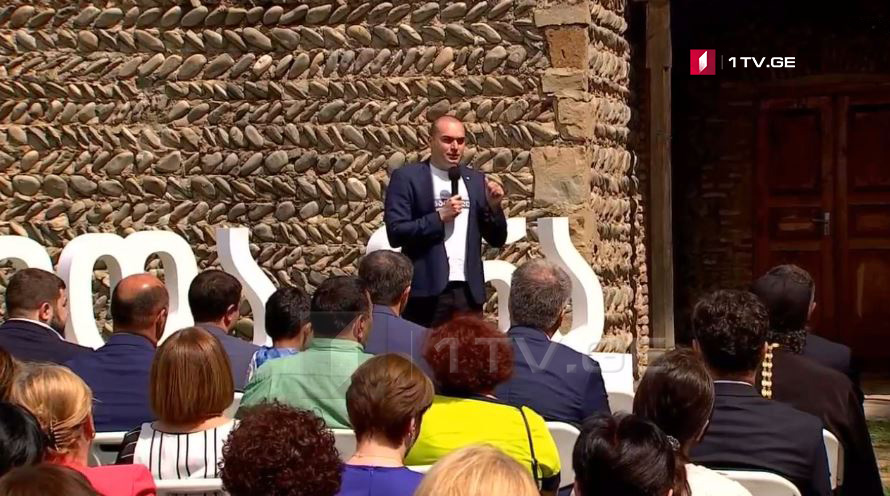 Mamuka Bakhtadze: Iakob Gogebashvili's Deda Ena schoolbook will return to schools from September
It is from here, the most beautiful village of Variani, that I would like to inform Georgian society that, starting in September, Iakob Gogebashvili's Deda Ena schoolbook will return to schools, –  Georgian Prime Minister Mamuka Bakhtadze stated in Variani.
According to the Head of Government, the Georgian language faced serious challenges in the time of Iakob Gogebashvili, the Georgian patriot who succeeded in creating a book handed down from generation to generation.
"The great Georgian who authored Deda Ena, a book we all cherish, was born here. A man who made a tremendous contribution to the historic mission of spreading the Georgian language. I would like to greet all of Georgia from here, Iakob Gogebashvili's House Museum. It was a time when unity of genuine Georgian patriots was of crucial importance. As the Georgian language was on the brink of extinction, posing a devastating threat to Georgia at that time, Georgian patriots accomplished the impossible by creating a book destined to be passed down from generation to generation, one that has preserved for us the Georgian language and Georgian alphabet. And that was Iakob Gogebashvili's goal in writing this book-he wanted this book to be passed down from generation to generation, to preserve something most sacred to us, our language and our script. Subsequently, the entire Georgian system of education stemmed from Iakob Gogebashvili's Deda Ena principles, and this book is revered and respected by every Georgian," Mamuka Bakhtadze said.
According to the Prime Minister, irresponsible people, at some point, removed Iakob Gogebashvili's Deda Ena from the learning program, triggering justified and objective public outcry.
"In that era, and the patriots of that time, spreading literacy signified a national idea. It is in spreading literacy that they discern a way to the salvation of the Georgian nation. Today, we have a national idea, and it is education. The Parliament of Georgia has already adopted a law obligating every successive government to spend 25% of the budget on education. And that is the only guarantee ensuring Georgia's success as a prosperous unified state in the 21st century. I would like to thank everyone who has helped return Iakob Gogebashvili's Deda Ena to school. Starting in September, every first-grader will receive a free copy of Iakob Gogebashvili's Deda Ena schoolbook, and I am confident that our children, and every subsequent generation in centuries to come, will cherish the Georgian Deda Ena book just like our previous generations and we have," Mamuka Bakhtadze stated.
An adapted version of Iakob Gogebashvili's Deda Ena will return to school in the 2019-2020 academic year, to emerge as an important educational; asset along with other approved textbooks.
The schoolbook's adapted version has been developed on the initiative of the Georgian Parliament, and by the Special Expert Commission established by authority of the decree of Georgian Minister of Education, Science, Culture and Sport Mikheil Batiashvili. The book will be distributed among elementary schoolchildren free of charge.
Iakob Gogebashvili's method of compiling an alphabet book was granted the status of a monument of intangible culture in 2003, and was elevated to the category of national importance in 2014.