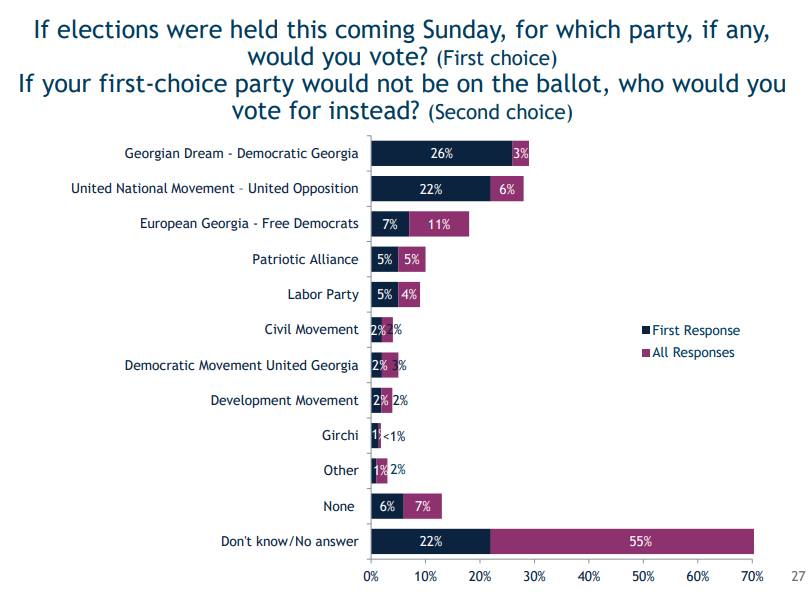 IRI: 26% would vote for GD and 22% for UNM if elections were held coming Sunday
According to the results of IRI public opinion survey, 26 percent of respondents would vote for "Georgian Dream" and 22 percent for "United National Movement", if elections were held this coming Sunday.
The result of other parties is as follows: "European Georgia" – 7 percent, "Alliance of Patriots" – 5 percent, "Labor Party" – 5 percent, "Civic Movement" – 2 percent, "Democratic Movement for United Georgia" – 2 percent, "- 2 percent,"Girchi "- 1 percent, the other – 1 percent, none – 6 percent, Don't know – 22 percent.
The survey was conducted on behalf of the International Republican Institute's Center for Insights and Survey Research by Dr. Rasa Alisauskiene of the Baltic Surveys/The Gallup Organization, with the fieldwork carried out by the Institute of Polling & Marketing. Data was collected throughout Georgia between May 20 and June 11, 2019, through face-to-face interviews at respondents' homes. The nationally representative sample consisted of 1,500 permanent residents of Georgia aged 18 or older and eligible to vote. The margin of error does not exceed plus or minus 2.5 percent for the full sample, and the response rate was 68 percent. The survey was funded by the U.S. Agency for International Development.