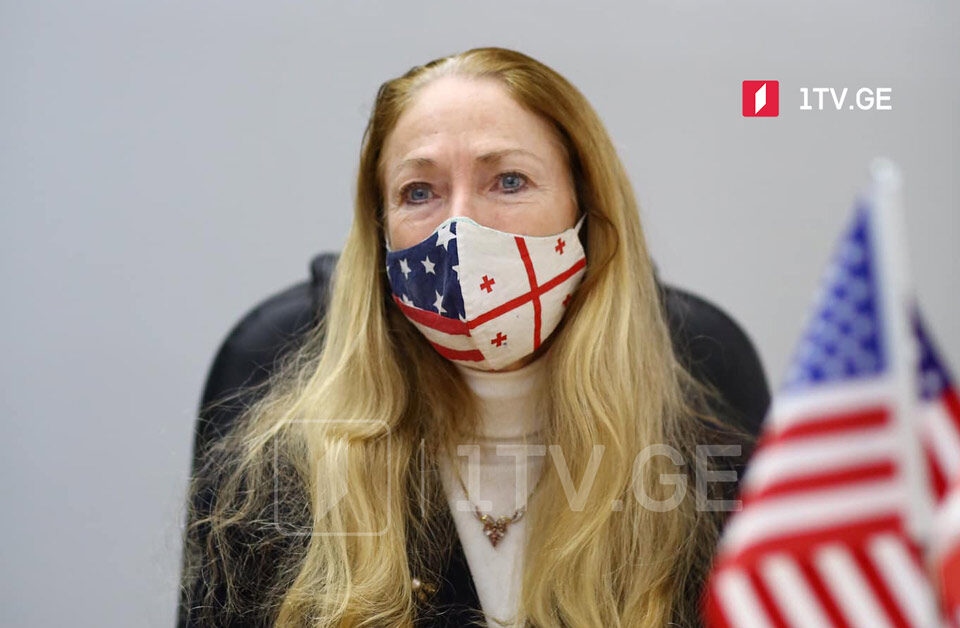 US Ambassador remarks on draft-bill about State Inspector's Service
US Ambassador to Georgia Kelly Degnan met Chairman of the Legal Affairs Committee Anri Okhanashvili, Foreign Relations Committee Chair Nikoloz Samkharadze and the ruling party MPs at the Georgian parliament. The Ambassador remarked about the draft bill on State Inspector's Service and judicial system reforms.
"We raised our concerns about the draft legislation pertaining to the State Inspector service, in particular provisions that would result in the dismissal of the entire staff of the State Inspector service. We also questioned the need to rush this through in an expedited fashion. The committee chairs responded to our questions, and, I think, they took on board our concerns, and I appreciate that. We also had the opportunity to discuss legislation that would change the disciplinary process in the judiciary for judges and some of the other amendments to the Law on Common Courts.
Again, we raised our concerns that these were being rushed through without an inclusive, consultative process, without talking to stakeholders when these are both very important and sensitive pieces of legislation that deserve broad consultation and time to deliberate: really this is what is in the best interests of Georgia. Again, in both cases, we urged the committee chairs to delay the process. I was reassured to hear that there is going to be a process beginning in January of consultations on judicial reform and our recommendation or suggestion would be to take any legislative amendments under consideration through an expedited fashion and make them part of a more comprehensive judicial reform assessment," US Ambassador said.
Kelly Degnan also hoped for the committee chairs would take the concern seriously and delay the drafts "until there can be more comprehensive, broad, inclusive consultation with other stakeholders."
Chairman of the Legal Affairs Committee Anri Okhanashvili said the ruling Georgian Dream (GD) party always considers the viewpoints of the strategic partner. He said discussions about the draft bill continue, and some changes could be possibly made to the proposed version.
"We will decide through consultations, and, of course, the process will be inclusive. All interested parties will have the opportunity to get involved in this process to hear all viewpoints," Okhanashvili said.
First Vice-Speaker of the Georgian parliament Gia Volski said the majority would attempt to override the veto if President Salome Zourabichvili decided to do so about State Inspector's Service bill.
Volski said the draft is politically and judicially enhanced to suit state interests and avoid collision of two functions in one institution. "We should rule out threatening the independence of the head of these two structures. Such rigid statements and attacks are absolutely incomprehensible," Volski claimed.
President Salome Zourabichvili said on December 27 that the draft bill on State Inspector's Service should not be discussed speedily.