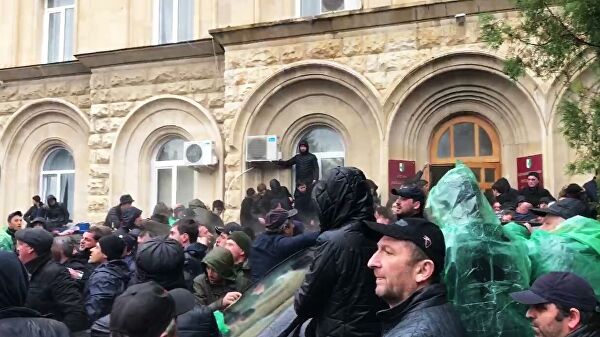 Supreme Court of occupied Abkhazia orders rerun of presidential election
The so-called Supreme Court of Georgia's occupied region of Abkhazia has overturned the results of September's presidential elections, ordering a rerun of the vote.
The judgment on Friday reversed a previous decision by the court, upholding an appeal by runner-up Alkhas Kvitsiniya that the official results were unlawful as neither candidate won more than 50% of votes, Russian media reported.
The judgment came as tensions remained high in the capital Sukhumi where on Thursday opposition supporters seized the Presidential Administration building demanding the resignation of de-facto Abkhazian President Raul Khajimba.
Khajimba refused to step down despite calls from parliament and opposition groups to do so following the 9 January seizure.
On Friday, Khajmba rejected the Supreme Court's decision and vowed to appeal it. In a statement, the presidential administration warned the ruling could 'exacerbate the difficult socio-political situation in the country'.
'The decision was made against the backdrop of pogroms in government buildings, the seizure of the Presidential Administration, and the siege of the Supreme Court building. With such pressure, it cannot be said that the Supreme Court of the Republic of Abkhazia had the conditions necessary to make an objective decision.'
Khajimba had responded to the storming of the Presidential Administration on Thursday by holding an emergency meeting of Abkhazia's Security Council. He announced that he did not rule out introducing a state of emergency.
According to Abkhazian state press agency Apsnypress, Khajimba also met with Deputy Secretary of the Russian Security Council Rashid Nurgaliyev.
On Friday, Russia's Foreign Ministry said the developments were an 'internal affair', but added that they were 'closely following' the situation.