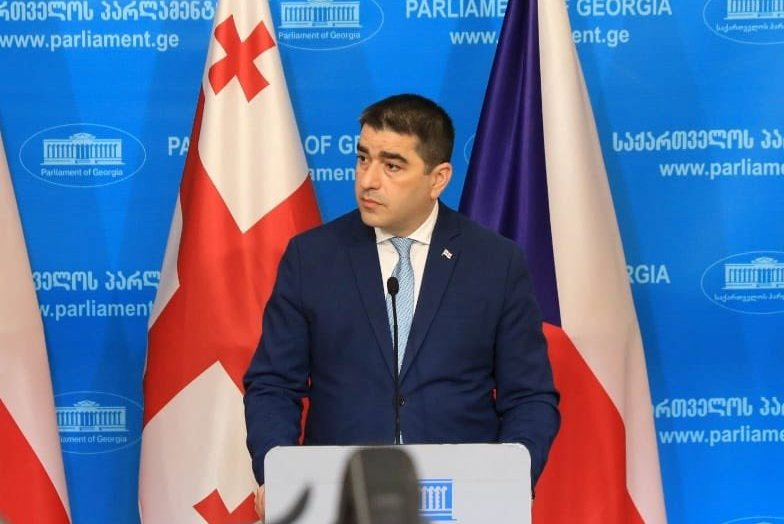 Speaker Papuashvili: Sharing Czech experience on Georgia's path to European integration 'valuable'
Georgia hopes for the Czech Republic's support and getting EU candidate country status soon after Czechia takes the reins of the EU presidency in the second half of 2022.
Parliament Speaker Shalva Papuashvili stated at a joint press point with Czech Senate President Milos Vystrcil that sharing Czechia's experience on Georgia's path to European integration will be "especially valuable."
The Speaker vowed Georgia to be ready for intensive cooperation "with a friendly country".
The parties also reviewed regional developments and Russia's aggression against Ukraine. "We reiterated our solidarity with Ukraine and the Ukrainian people," Papuashvili asserted.
Milos Vystrcil stressed Czechia's support for Georgia's territorial integrity.
Alluding to Russia's war in Ukraine, Vystrcil said, "The Czech Republic believes that the Russian Federation is violating the principles of international law. The Czech Republic decries Russia's aggression in Ukraine."
Czech Senate President also praised Georgia's moves to send economic and humanitarian aid to Ukraine.
Speaking of beefing up the cooperation, Vystrcil pledged, "Georgia is a privileged, friendly country for us, and we must show it in practical steps.
"We want to boost our cooperation in many areas, like social, health, and agriculture. Compliance with the Association Agreement terms is the precondition for that. We also agreed that another precondition for economic cooperation is respect for our common European values, a just state, a free media, and the democratic operation of public institutions. We are ready to work with Georgia in all those areas, and I am sure we will be successful, and our visit will also contribute to it a bit," Milos Vystrcil underscored.
Pleased to meet @Vystrcil_Milos, President of the Senate of the Czech Republic. As Georgia progresses on its EU integration path, high-level parliamentary dialogue becomes especially important. We count on 🇨🇿's further support for 🇬🇪's European future. @SenatCZ pic.twitter.com/Ufb2NAfRdF

— Shalva Papuashvili 🇬🇪 (@shpapuashvili) May 2, 2022