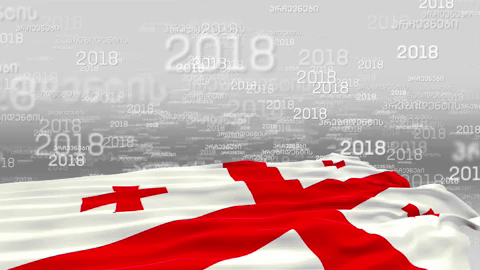 Presidential elections being held in Georgia
The 2018 presidential elections are being held in Georgia today. The Georgian population is electing the 5th president with the 6-year-term. This will be the last elections when President is elected through the direct rule.
The Presidential elections are held in 73 election precincts. There are 3637 polling stations and 11 special stations opened throughout Georgia. The 57 polling stations are opened abroad.
The total number of voters in the united voters' list of Georgia is 3 504 082. There are 14 795 voters registered abroad.
The 25 candidates are running in 2018 presidential elections out of them 19 represent political subjects, while 6 – the initiative group of voters. Two candidates withdrew their candidacies but their names are still included on election bulletins.
Mikheil Antadze (1) – "Movement State for People"
Davit Bakradze  (2) – P/U "European Georgia ‐ Movement for  Liberty"
Vakhtang Gabunia (4) – P/U "Christian‐Democratic Movement"
Grigol Vashadze  (5) – "United National Movement"
Shalva Natelashvili  (10) – "Labor Party of Georgia"
Zviad Mekhatishvili (13) – P/U "Christian‐Conservative Party of  Georgia"
Giorgi Liluashvili  (17) – Political Party "Sakartvelo"
Akaki Asatiani (18) – "Union of Georgian Traditionalists"
Kakha Kukava (21) – P/U "Free Georgia"
Otar Meunargia (22) – "Industry will Save Georgia"
Irakli Gorgadze (23) – P/U "Movement for Free Georgia"
Davit Usupashvili (25) – P/U "Free Democrats"
Zviad Baghdavadze  (27) – P/U "Civic Platform ‐ New Georgia"
Mikheil Saluashvili (28) – P/U "Union of Recovery of Justice,  Voice of the People: The  Lord Our Righteousness"
Zviad Iashvili (30) – P/U "National‐Democratic Party"
Tamar Tskhoragauli (31) – "Tavisufleba – Zviad Gamsakhurdias  Gza"
Gela Khutsishvili  (35) – P/U "Political Movement of Armed  Veterans and Patriots of Georgia"
Zurab Japaridze (36) – "Girchi"
Levan Chkheidze (40) – 3 P/U  "New Christian‐Democrats"
Salome Zurabishvili (48) – Initiative Group of Voters
Besarion Tediashvili (49) – Initiative Group of Voters
Giorgi Andriadze (51) – Initiative Group of Voters
Kakhaber Chichinadze (58) – Initiative Group of Voters
Vladimer Nonikashvili (62) – Initiative Group of Voters
Teimuraz Shashiashvili (65) – Initiative Group of Voters
A presidential candidate needs 50%+1 votes for winning. If a candidate does not collect the needed number of votes, the second round of elections will be appointed. Two candidates, who showed the best results in the first round, will participate in the second tour of the elections.
The Georgian Central Election Commission (CEC) will appoint the date of the second round of elections. The candidate, who receives more votes in the second round, will become president of Georgia.