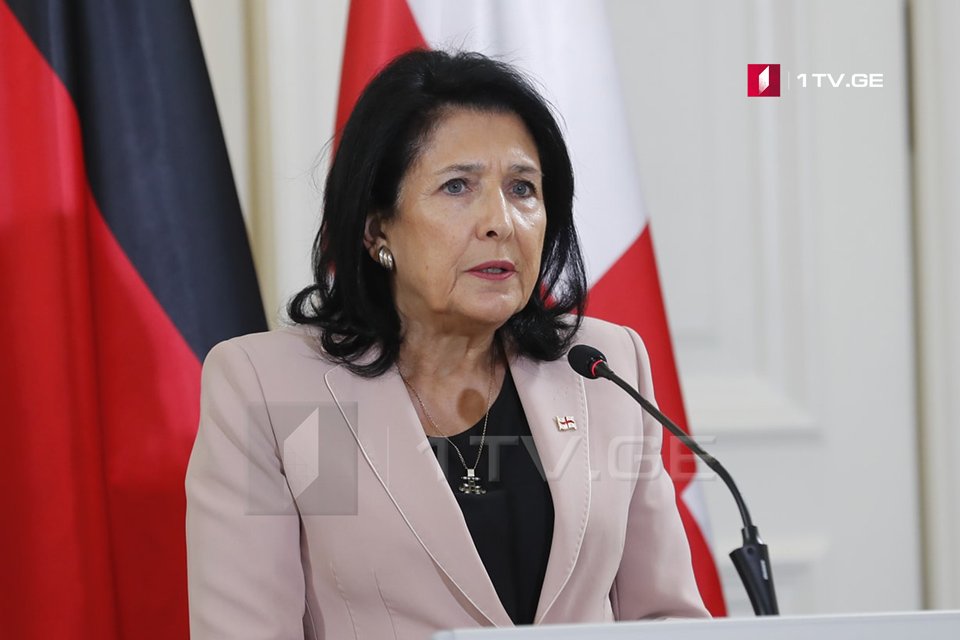 President Zourabichvili appeals to EC President to recognize Georgian people's will in country's EU membership bid
Georgian President Salome Zourabichvili Tuesday appealed to European Commission President Ursula von der Leyen to recognize the "will of Georgian people" in the upcoming decision over granting European Union membership candidate status to Georgia.
In her speech at the Orbeliani Palace, President  Zourabichvili said: "I appeal to Ursula von der Leyen who has a crucial role to play in completing the Commission's recommendation and call on her to recognize the will of the Georgian people, the people whose soldiers stood with German soldiers in Afghanistan, when she was Minister of Defence, to recognize that this people has earned on its 30-year-and-more road. And that day is coming now."
I appeal to @vonderleyen, who has a crucial role in the completion of the @EU_Commission recommendation for Georgia's candidacy

I call on her to recognize the will of the Georgian people, whose soldiers stood with the Germans in Afghanistan when she served as Minister of Defense pic.twitter.com/osVWIdSsAO

— Salome Zourabichvili (@Zourabichvili_S) June 15, 2022
The President continued: "Tomorrow, I will also personally write a letter to the leaders of each of the 27 member states, presenting all the political, moral and strategic arguments as to why Georgia deserves this historic decision and why leaving it off the road can be a fatal mistake."
Salome Zourabichvili invited Georgian citizens, government officials and all political parties to show public unity on the country's European future by gathering on Europe Square in Tbilisi tomorrow, at 7 pm. She also invited EU Ambassador to Georgia Carl Hartzell and foreign diplomats to the occasion.
"But at this crucial moment, what should we do and what do I offer: First of all, what I offer from the first day is unity. We have no other choice and therefore I offer you all, and I'm seeing a deja-vu, to gather on 16 June not at the Hippodrome, but Europe Square in Rike Park. But by all, I mean all. Let us show each other and Europe our face, our unity, our will. It will be the community, the population standing together where everyone will be an ordinary citizen, me, you and members of any political party or government, but everyone will come as an ordinary citizen. There will be no speeches, no announcements, no posters. If anyone wants a song, they can sing it. The rest will be just stand up for what we want for our children, for the next generation in Europe.

We do not want to "go to Europe", we do not want to go there, we do not want to send more of our emigrants there, we want here the values and the part of Europe that we need and that is acceptable to us.

I also appeal to the organizers of the June 20 demonstration that if they think about it it can be postponed as in my opinion, it is associated with many dangers and it is not the time to show political ambitions and divide society. At the same time, I warn the authorities, after some statements were made, and if it is held and it is not my decision, I can only ask, if this protest is held, the government will be held responsible for any excess because the right to demonstrate must be protected and secured.

Now is the time for our unity and only unity!" the President underscored.
On 16 June, I call on every Georgian to be united behind our national aim of returning to our European family:

Let's all gather on Europe Square and show our unity. No political speeches, no scenes, no microphones. Just us, ordinary citizens brought together by our cause. pic.twitter.com/NN8ZsCoUTE

— Salome Zourabichvili (@Zourabichvili_S) June 15, 2022