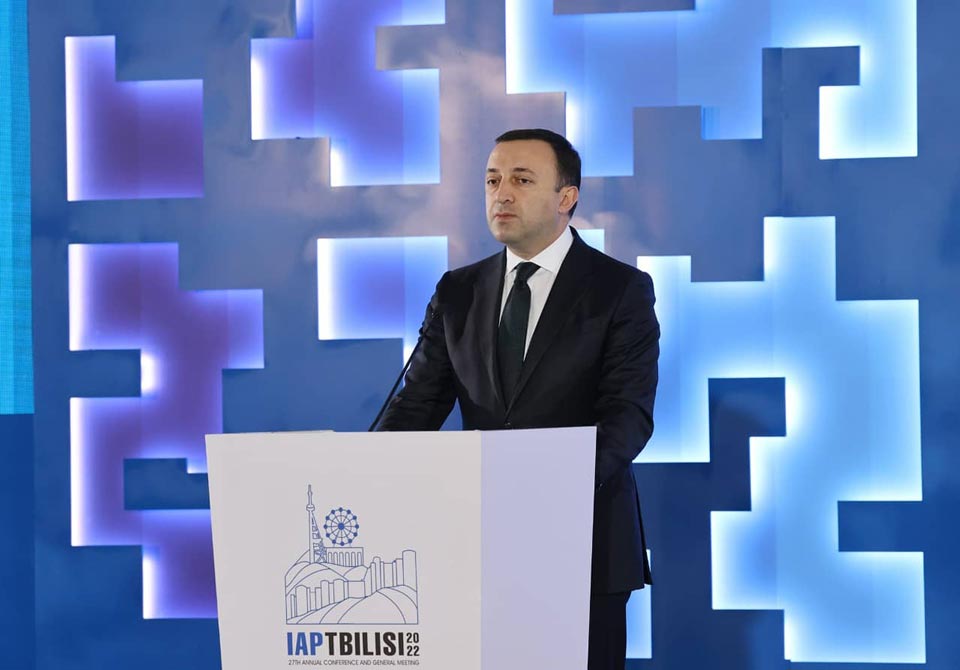 POG advancement govt's unvarying priority, Georgian PM says
Georgian Prime Minister Irakli Garibashvili on Monday opened the 27th annual conference of the International Association of Prosecutors in Tbilisi, claiming that "advancement of the prosecution as a system has been an unvarying priority of the Government of Georgia."
In his speech, the PM said, "consistent support of international partners – such as IAP – is vital in the process of transformation."
Garibashvili stressed that law-enforcement bodies play a "significant role" in the building of a more "fair, democratic, peaceful international society" – be that at the national level or through international partnerships.
"Difficulties caused by the COVID pandemic and now this war in Ukraine, threats stemming from the military activities witnessed on the continent of Europe and crimes related to digital transformation, including the money laundering with crypto currencies and cybercrime at rising scale have made it clear that the world is undergoing a complex process of renewal," the PM stated.
On 25-29 September, the Georgian capital is hosting the 27th Annual Conference and General Meeting of the International Association of Prosecutors (IAP) on Global Phenomena Reshaping Criminal Justice Systems.
Participants of the conference were also greeted by Irakli Shotadze, General Prosecutor of Georgia (POG) and Cheol-Kyu Hwang, IAP President.
Event has gathered 300 prosecutors from 60 countries, criminal justice officials from the UN, EU, Council of Europe, US Department of Justice (DOJ), subject-matter professionals and experts. Georgia is hosting the IAP Annual Conference for the first time in the history of the country and Georgian prosecution.
IAP was established in 1995, consisting of 183 prosecution agencies from 177 countries.