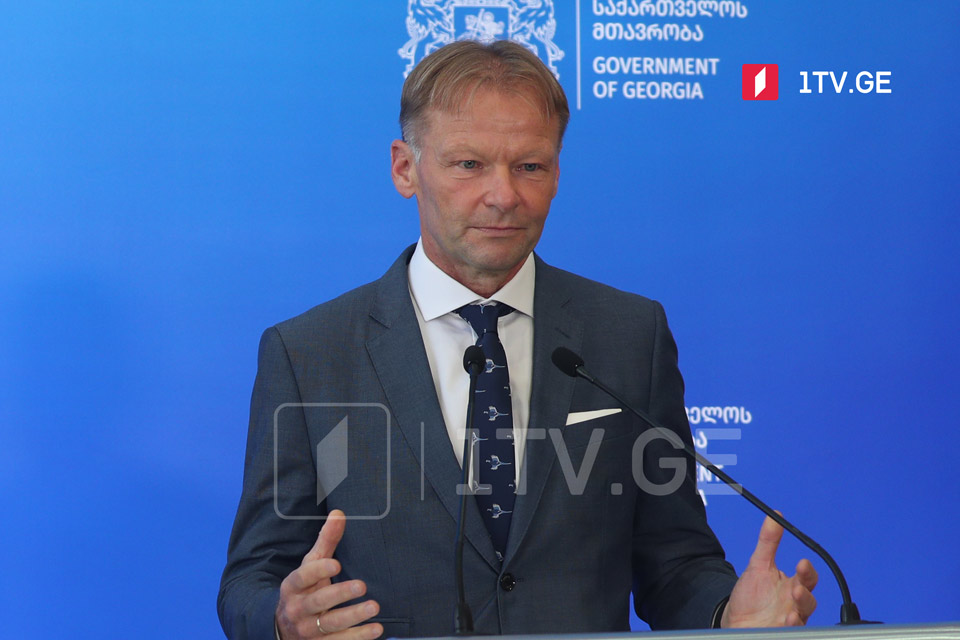 PM Special Adviser for Investments to serve Georgian people and help strengthen EU-Georgia ties
"It is my great honour to work now as an Envoy of the Prime Minister of Georgia for the development of the country and to support the Government," Vazil Hudak stated at a press briefing held at the Government Administration upon his appointment on Friday.
A newly appointed adviser stated it is a difficult period to operate due to pandemic, but the opportunity to grow exists.
"First of all, I feel greatly honoured to be back again. Georgia is very close to my heart, and as the Prime Minister has noted, I have been to Georgia many times in different capacities. Most recently, I was visiting Tbilisi as a Vice President of the European Investment Bank (EIB). It is among the largest investors in Georgia and the Georgian economy. I have a great honour to work for the development of the country, this time as an Envoy of the Prime Minister of Georgia in support of the Government.
We have to operate in a difficult period together. It is true for Europe and globally. It is due to COVID. However, I believe that difficult times are opportunities as well. We have an opportunity now to grow and develop in many different directions, create better quality in various areas, attract support from the USA, EU and other countries. We know how to recover the economy through investments, more economic development and advancement. I believe that this is the future of Georgia as well in the EU.
The Prime Minister of Georgia already announced that I am an EU Envoy for Small and Medium Enterprises (SME). It is aimed as an endeavour for greater resilience," Vazil Hudak noted.
Special Adviser to the Prime Minister of Georgia noted that EUR 50 billion was allocated for this program.
"It has two main aspects: digitalization and green or environmental initiative to address climate change. These are the future directions of Georgia as well – to become more digital, more modern and greener. I believe that Georgia will thus come closer to Europe, and it is the major aspiration of the Government of Georgia too.
I met all Ministers of the Economic Team to discuss all challenges faced in the process and studied various needs and challenges. Public funds are not sufficient to meet all these needs, and, that is why it is so important to mobilize other resources thereby engaging the private sector in the process. That is exactly where I see my role, to help the Government of Georgia in finding ways to mobilize other resources.
International support will bring more benefit to the Government of Georgia. I see this goal achieved through the Public-Private Partnerships (PPP) as well, which will benefit the Georgian economy. I indeed have a great honour to serve the country and Georgian people in the capacity of an Adviser of the Prime Minister of Georgia. It is an opportunity for strengthening ties between the EU and Georgia. I take this mission very confidently," Vazil Hudak stated upon his appointment.
Prime Minister Irakli Garibashvili presented former Vice-President of the European Investment Bank, Vazil Hudák, as Special Adviser for Investments on Friday.