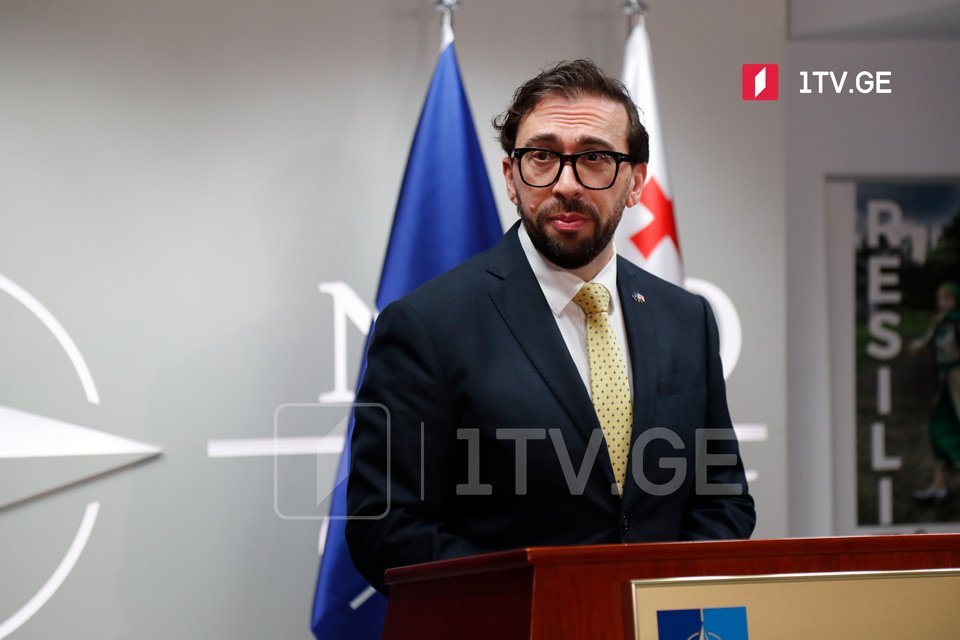 NATO to deepen relationships with some of closest partners, including Georgia, says NATO Liaison Office Head
At the Madrid Summit, NATO leaders agreed to deepen relationships with some of NATO's closest partners, which joined the summit, among them Georgia, said Alexander Vinnikov, Head of the NATO Liaison Office in Georgia, remarking on the decisions made at the recent NATO Madrid Summit.
"As you know, last week, NATO Heads of states and governments met in Madrid, Spain, for a summit that made far-reaching decisions for the future of the Alliance. The Madrid Summit was transformative. The Alliance made historic decisions to adapt for the future and strengthen NATO in a more dangerous and competitive world where authoritative regimes like Russia and China are challenging the rules-based international order. The decisions that the Alliance took can be broken down into six main categories.
The first is that the allies agreed on a fundamental shift in NATO's deterrence and defence underpinned by increased defence investments, burden sharing, and common funding. Secondly, the allies invited Finland and Sweden to join the Alliance. This future membership of Finland and Sweden will be good for NATO and good for those countries, and it will be good for European security at large. The accession protocols of both countries are expected to be signed today in Brussels. Thirdly, leaders agreed on long support to Ukraine; to help ensure that Ukraine prevails against Russia's unprovoked and brutal aggression. Fourth, NATO leaders endorsed NATO's new strategic concept thus setting out the alliance's priorities, core tasks and approaches for the next decade, including when it comes to threats coming from Russia, China as well as other asymmetrical threats including hybrid, cyber, terrorism, technologies and other threats. Fifthly, the allies agreed to step up the fight against climate change and establish an innovation fund to help sharpen NATO and its technological edge. Last but not least, NATO leaders also agreed to deepen relationships with some of NATO's closest partners, which joined the summit. One of the closest partners, of course, is Georgia, which was represented by Prime Minister Irakli Garibashvili, who attended the second session of the summit.
The allies endorsed the set of measures. We call them the tailored support measures for Georgia, being one of NATO's partners most directly affected by external threats and the interference in the current security environment resulting from Russia's unprovoked war in Ukraine. These tailored support measures are the expression of NATO's strong political support for Georgia, its sovereignty and territorial integrity and NATO's commitment to the Bucharest Summit decisions on Georgia's eventual membership. Indeed, in the Strategic Concept, which was endorsed, the security of aspirant countries, including Georgia, is intertwined with the security of NATO allies. The Strategic Concept also reconfirms NATO's commitment to its open-door policy and the decisions taken at the Bucharest Summit and subsequent summits," said Alexander Vinnikov.
According to Alexander Vinnikov, measures in the tailored support package step up both political and practical support for Georgia. This new package is designed to build Georgia's capabilities and strengthen its resilience. These include Georgia's increasing participation in NATO's cyber exercises, strengthening security communications, and helping to develop critical infrastructure.
"We will continue to work on the Substantial NATO-Georgia Package (SNGP), which remains the main framework for our practical support for Georgia, including the issues of air defence, intelligence, crisis management and cyber defence. We will also be looking at adding a couple of new areas to the package. We will increase the frequency of our exercises and try to conduct them in two years instead of three. We will also see further synergies with other international organizations, delivering support to Georgia, including the European Union.
NATO also plans to provide additional personnel to this office, and we also have structures like Joint Training and Evaluation Center in Krtsanisi, which can be also further strengthened to provide additional support to Georgia. In the months ahead, our staff will be working closely with our Georgian counterparts to translate the measures decided in Madrid into a more detailed plan with the objectives and timelines," he said.