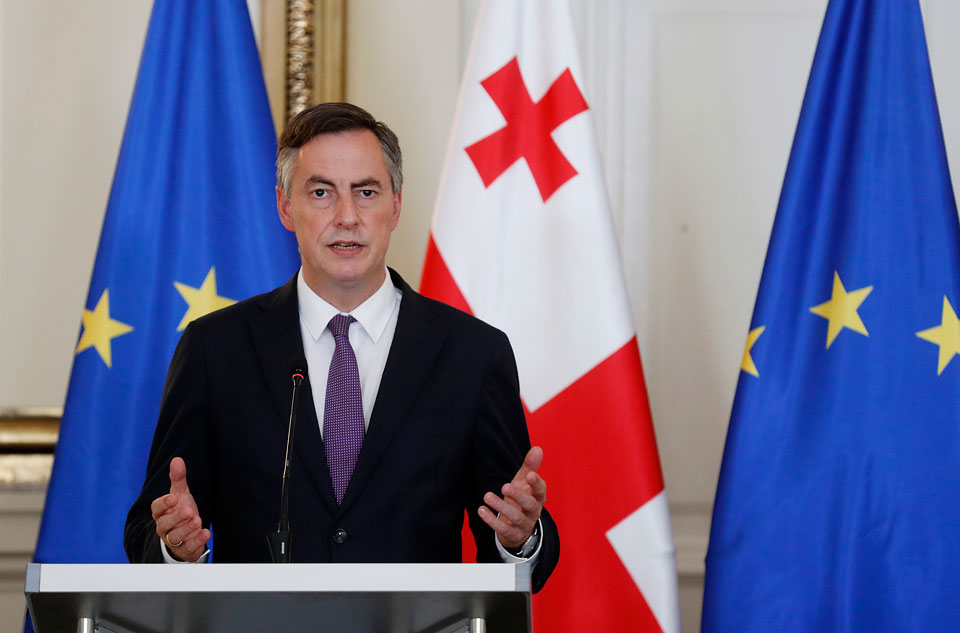 MEP McAllister: We need to see joint action leading to results; not further divisions, mutual accusations; clock is ticking
The Head of a European Parliament delegation, David McAllister and Georgian President Salome Zourabichvili have discussed "the importance of all political forces putting their differences aside and working constructively towards the common goal of the EU candidate status for Georgia."
In a joint press point, MEP McAllister stressed that the EU has been actively encouraging the opposing sides" to reach an agreement on implementing key reforms to strengthen democracy and rule of law. "The involvement of European Council President Charles Michel showed our commitment at the highest level."
While reiterating the European Parliament's stance, he stated that "the enlargement remains a merit-based process that requires the adoption and implementation of relevant reforms notably in the areas of democracy, rule of law, human rights, a market economy and the implementation of the all relevant EU legislation." He claimed that this process applies to all countries, aspiring to EU membership and "it is not subject to bargaining. Georgia will continue to be assessed on its own merits and success in meeting Copenhagen's criteria for EU membership."
"Last month, the decision of the European Council was a historic step. The decision of the European Council to recognize the European perspective of Georgia can not be underestimated. This is a recognition of the strong support of the Georgian people for the European future of their country and the work of the Georgian institutions to bring Georgia closer to the EU. Georgia belongs to the European family, however, the EC has decided that Georgia needs to address a number of priorities in order to be granted the EU candidate status.

Unfortunately, when we speak about Georgia, one word seems to always be present and that is polarization. We regret this very much. The political discourse in this country is characterized by harsh rhetoric and the inability or unwillingness to compromise and work together no matter how important this is for the country. We believe this has to change. The political standoff has been hindering Georgia's progress and the Commission's list of 12 priorities is a reflection of our concerns about this situation," he went on.
In his speech, McAllister said President Zourabichvili has made "very important statements calling for unity among the political parties in the face of the enormous challenges that Georgia needs to deal with."
"Now, now is the key moment for Georgian authorities to unambiguously demonstrate their political determination to implement the European ambitions of their people. It is encouraging to see that serious considerations have taken place about the way forward towards implementing the 12 priorities, and both the ruling party and the opposition come up with their plans. Civil society and organisations have also presented their ideas. This reflects a shared goal for the candidate status for Georgia. What we need now is to see a joint, concerted action leading to results and not further divisions and mutual accusations and the clock is ticking," he stressed.
Press Point with MEP David McAllister https://t.co/rSbIqAqWPE

— Salome Zourabichvili (@Zourabichvili_S) July 20, 2022