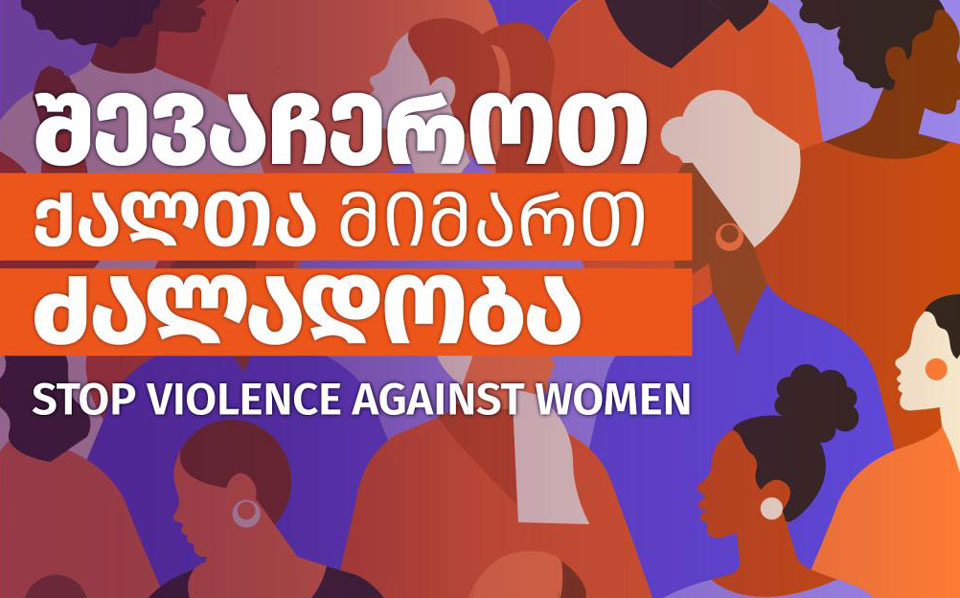 Int'l missions in Georgia echo International Day for Elimination of Violence against Women
On the International Day for the Elimination of Violence against Women, the United Nations system in Georgia, the Delegation of the European Union to Georgia, the Council of Europe Office in Georgia, the EU Monitoring Mission in Georgia, and the Embassies to Georgia of Austria, Belgium, Bulgaria, Canada, Croatia, Czechia, Denmark, Estonia, France, Germany, Greece, Israel, Italy, Latvia, Lithuania, the Netherlands, New Zealand, Norway, Poland, Portugal, Romania, Slovakia, Slovenia, Spain, Sweden, Switzerland, the United Kingdom, and the United States issued a joint statement.
In the statement, the signatories said stigma and impunity have allowed violence against women to escalate to pandemic proportions.
It further said that across the world, as well as in Georgia, violence against women and girls remains one of the most pervasive and latent human rights violations, both a cause and a consequence of gender inequality and discrimination.
Below is the full statement:
"A world where violence against women and girls is not just condemned but stopped is possible. It can and must be prevented.

As highlighted in the GREVIO baseline report on Georgia published on 22/11/2022, over the past decade, Georgia has made significant progress towards effectively addressing the shadow pandemic of violence against women and girls by putting in place a comprehensive policy and legislative framework, producing data and strengthening institutions to effectively enforce the laws. Moreover, specialized services for survivors such as shelters, crisis centres and a hotline have been created, and law enforcement has been specialized to handle cases in a more sensitive and qualified manner. Importantly, there have been positive shifts in public perceptions and an increase in survivors' trust in the justice system and services.

Despite these significant measures taken to tackle gender-based violence in Georgia, women continue to die as a result of these atrocious crimes. Often, femicide represents the continuum of other forms of violence experienced by women and girls. Sexual violence also persists in Georgia, with an extremely low number of reporting and respective cases reaching the courts. The persistent patriarchal norms and deeply entrenched stereotypes in Georgian society tend to blame victims and condone violence against women and girls.

We call for the strengthening of a holistic national framework to prevent all forms of violence against women and girls in Georgia.  Efforts should be translated into concrete actions through the necessary legislative measures by, inter alia, amending the definition of rape in the Criminal Code of Georgia to ensure compliance with the Council of Europe's Istanbul Convention and other international standards, as well as by exercising due diligence to prevent (including through integrating the issue into the general education programmes), investigate, punish, and provide reparation for acts of violence. Building and strengthening an enabling environment for women's economic, political, and social empowerment is paramount.

Since everyone has a pivotal role to play in tackling violence against women and girls, we remain steadfast in our determination to support the Government of Georgia, civil society, and other partners to ensure that the inalienable right of women and girls to live a life free from violence is observed and enjoyed for the benefit of everyone."
"A world where violence against women and girls is not just condemned but stopped is possible."
Joint statement w/ @ungeorgia, @CoeGeorgia, @EUMMGeorgia & 🇦🇹 🇧🇪 🇧🇬 🇨🇦 🇭🇷 🇨🇿 🇩🇰 🇪🇪 🇫🇷 🇩🇪 🇬🇷 🇮🇱 🇮🇹 🇱🇻 🇱🇹 🇳🇱 🇳🇿 🇳🇴 🇵🇱 🇵🇹 🇷🇴 🇸🇰 🇸🇮 🇪🇸 🇸🇪 🇨🇭 🇬🇧 🇺🇸: https://t.co/pUg58NS9c7#OrangeTheWorld pic.twitter.com/HafxIO0tK6

— EU Delegation Georgia 🇪🇺 (@EUinGeorgia) November 25, 2022