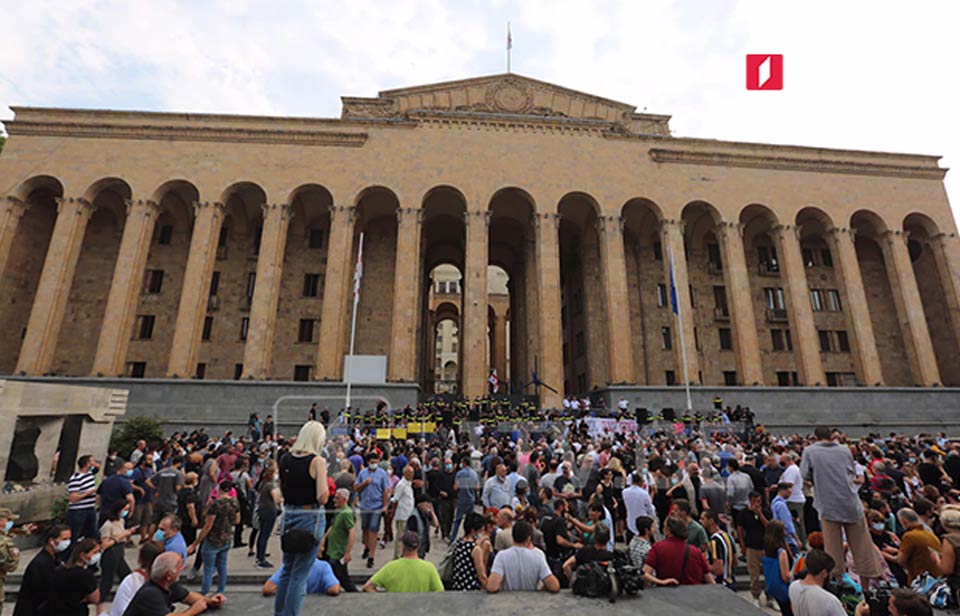 Hundreds rally to demand PM's resignation over Georgian cameraman's death
Hundreds gathered at Georgian Parliament on Monday, calling on the Prime Minister Irakli Garibashvili to step down over the Georgian cameraman's death.
TV Pirveli journalist Vakho Sanaia claims the people will force the PM to quit the post.
The public outcry triggered by the violent attacks on media by the far-right mob on July 5-6 and cameraman Lekso Lashkarava's death. Fifty-three journalists were targeted in the violence, prompting backlash from the opposition, the international community, and society.
US Ambassador today decried the violence in any form, saying that "protecting citizens and preventing violence is fundamental."
PM Garibashvili earlier today spelt out the reasons behind brushing off the march, saying that the government has to obey the will of 95 per cent of its population that opposes a demonstrative propaganda march or parade.
TV Pirveli cameraman Lekso Lashkarava was found dead in his home on Sunday after being assaulted by far-right activists on July 5. He was beaten in the Shame Movement office, stormed by far-right activists.
Interior Ministry launched a probe into the case under Article 115 of the Criminal Code of Georgia, involving incitement to suicide. As of today, five persons have been detained for attacking TV Pirveli crew Miranda Baghaturia and Aleksandre Lashkarava, Interior Ministry reported.
Over seventy Georgian media organizations, including Georgian Public Broadcaster (GPB), have already appealed to the international community "to respond immediately and effectively to the purposive persecution of media representatives on Rustaveli Avenue on July 5, the facts of damage to health, obstruction of professional duties, and inaction of the Georgian government."