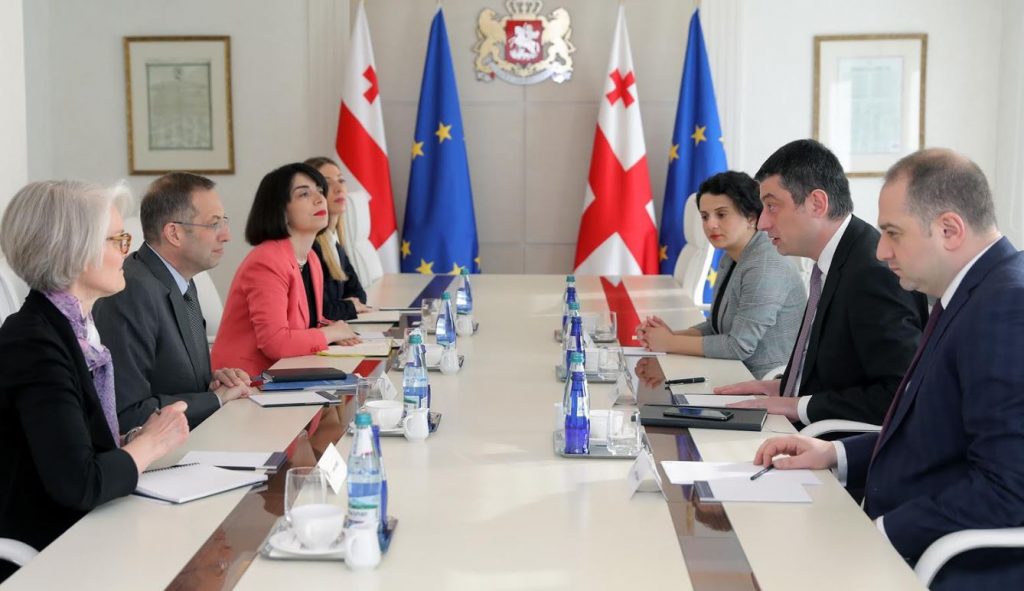 Giorgi Gakharia and NDI President Discuss Need of Coordinated Cooperation During Election Year
Various directions of the National Democratic Institute (NDI) in Georgia have been discussed by Giorgi Gakharia, Prime Minister of Georgia and Derek Mitchell, President of NDI at a meeting held in the Government Administration of Georgia today.
According to the Prime Minister's press office, high level strategic partnership between the USA and Georgia was particularly noted at the meeting. Focus was made on the need of coordinated cooperation in the country during the election year. Timely visit of the NDI President in Georgia was underlined at the meeting, as election campaign will be entering its active phase soon.
Discussions at the meeting were related to the importance of empowering local authorities and representation bodies, along with the work carried out by the NDI toward this end. It was noted at the meeting that it is significant to avoid specific aspects of operation being politicized as it may jeopardize the attainment of goals oriented at project implementation with support of the NDI.
Officials noted at the meeting that it is essential to reduce the high polarization level for the elections and that every party has a role to play in the process. Prime Minister of Georgia stressed that elections in 2020 as well as every other one after 2021 will be held in compliance with the highest international standards.
Meeting was attended by Natia Mezvrishvili, Head of Government Administration of Georgia and Irakli Chikovani, Adviser to the Prime Minister of Georgia on Foreign Affairs.