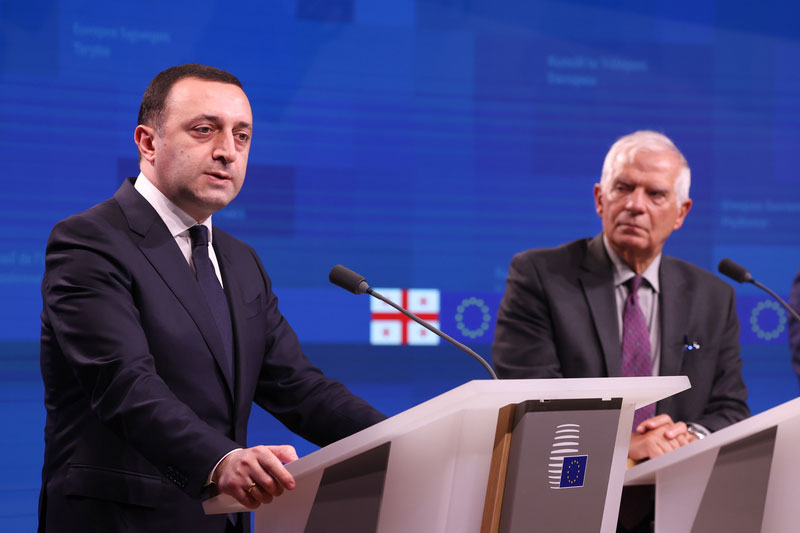 Georgian PM: European Perspective comes with huge responsibility; we perfectly understand it
"European Perspective comes with huge responsibility and we perfectly understand it, to ensure the highest political, economic and legal convergence with the European Union," stated Georgian Prime Minister Irakli Garibashvili at the press conference with HR/VP Josep Borrell Fontelles and the EU Commissioner for Neighbourhood and Enlargement, Olivér Várhelyi, following the 7th meeting of the EU-Georgia Association Council.
In his speech, the PM stressed, "the historic decision of the European Council has created the whole new set of benchmarks that will play a game-changing role for Georgia. And yes, Georgia is fully committed to implementing 12 priorities as identified by the Council."
"Immediately after the Council's decision – on the 1st July – we presented a concrete Action Plan with specific deadlines per priority and launched an inclusive process, which brings together the members of different political groups, opposition parties, the Government and the civil society. Although, I have to mention regrettably that some radical opposition parties do not participate in this process.

We remain strongly committed to fully exploit the potential of the Association Agreement (AA), including the DCFTA. Very recently we have adopted a new Association Agenda for 2021-2027, which reflects the ambitious goals on our common agenda. Achieving maximum integration into the EU single market remains one of our core goals. Developing connectivity between the EU and Georgia, especially in the Black Sea, promises important benefits to the wider region, especially given the current geo-political context and major challenges we all face, like energy security, food security.

We have invited our EU colleagues to tap into the unique possibilities that Georgia as a potential key transit hub on the EU's global connectivity map can offer," Garibashvili stated.
Great meeting w/🇪🇺's HR @JosepBorrellF. Had an opportunity to discuss 🇬🇪's 🇪🇺 membership perspective, as well as security & econ co-op. We highly appreciate the EU's support for Georgia's sovereignty and territorial integrity & the peaceful conflict resolution process. pic.twitter.com/b687fvRG4V

— Irakli Garibashvili (@GharibashviliGe) September 6, 2022
The parties also discussed the war in Ukraine and the peaceful resolution of the Russia-Georgia conflict "which started way before – in 2008 – when we had a war – a large-scale war – with Russia. Since then Russia occupies 20% of our territory," according to the Head of the Government.
The PM underscored the EU's actual role in this process and its firm support of Georgia's territorial integrity within the internationally recognized borders, deeming it "crucial as ever."
"We have shared with our European colleagues our assessment of recent developments in the occupied territories and stressed the key importance of the full implementation of the EU-Mediated August 12, 2008 Ceasefire Agreement by the Russian Federation," he concluded.
Met w/ 🇪🇺's @OliverVarhelyi. We are committed to work closely to advance 🇬🇪 candidate status path & meet the priorities specified by @EU_Commission. Discussed Black Sea connectivity. Diversification of logistical & energy routes is key for sustainable 🇪🇺 security infrastructure. pic.twitter.com/LLRUFw0xIf

— Irakli Garibashvili (@GharibashviliGe) September 6, 2022