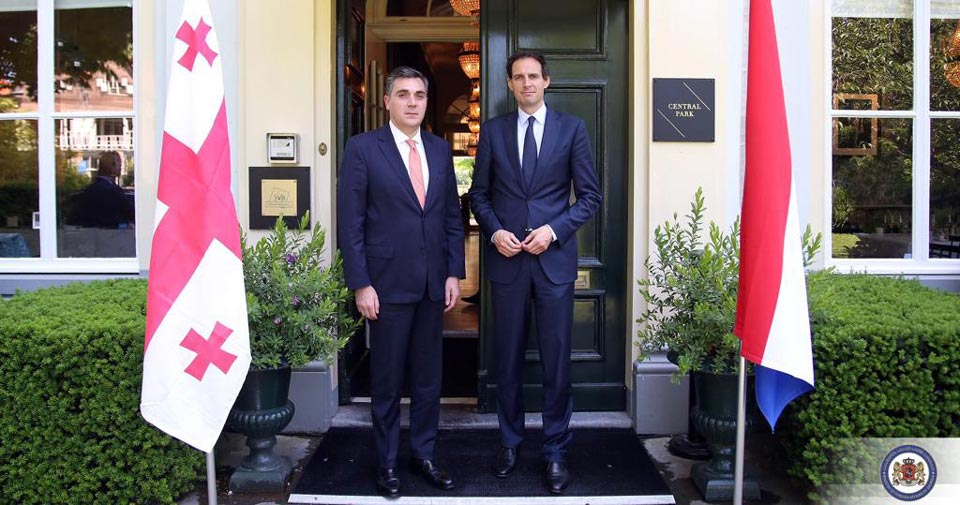 Georgian FM meets Dutch colleague 
Georgian Foreign Minister Ilia Darchiashvili today held a meeting with Dutch Deputy Prime Minister and Foreign Minister Wopke Hoekstra as part of his visit to the Netherlands.
The Ministers reviewed the security environment in the region and the impact of the ongoing war in Ukraine. In this context, the challenges facing Georgia and the situation in the occupied region were in focus.
The parties also discussed Georgia's progress in the implementation of the reforms defined by the Association Agreement and the country's integration process into the EU.
Good to welcome Georgian Minister of Foreign Affairs @iliadarch to The Hague yesterday. Discussed the bilateral cooperation between the Netherlands and #Georgia, security in the region, and Georgia's European aspirations. 1/3 pic.twitter.com/jzolL8WWqO

— Wopke Hoekstra (@WBHoekstra) June 10, 2022
Georgian FM thanked  Dutch colleague for co-sponsoring a resolution on the status of internally displaced persons and refugees from Georgia's Russian-occupied Abkhazia and Tskhinvali regions, adopted yesterday by the United Nations General Assembly.
Ilia Darchiashvili also informed his counterpart about the "strong support" of Georgia towards Ukraine. Wopke Hoekstra praised Georgia's "significant support" for Ukraine amid the Russian invasion, and thanked his counterpart for standing by the international community in this process.
Grateful to 🇳🇱FM @WBHoekstra for warm hospitality. Welcomed increased level of interaction between our countries& 🇳🇱's significant role on 🇬🇪's EU-integration path. Discussed 🇬🇪🇳🇱 coop focusing on intensification of trade-economic relations. 🇳🇱's support to🇬🇪 is much appreciated! pic.twitter.com/i1Ra59kBwA

— Ilia Darchiashvili (@iliadarch) June 9, 2022