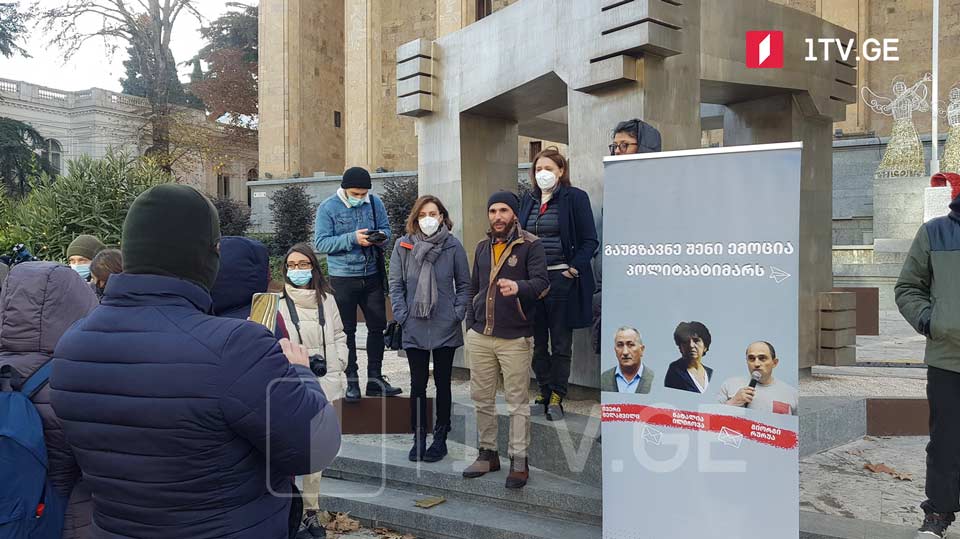 Citizens rallying outside parliament building
A group of people held a rally-performance in front of the Parliament building in Georgia's capital Tbilisi on Thursday.
The rally participants said every citizen could send a letter to detained Iveri Melashvili, Natalia Ilychova, and Giorgi Rurua.
"We wanted the citizens could send their emotions to political prisoners: Iveri Melashvili, Natalia Ilychova, and Giorgi Rurua for the New Year. I am delighted that civil society's position is different from the present propaganda," said Sopo Soselia, whose husband, Akaki Kobaladze, is detained for offering a bribe, threat, and coercion.
The opposition European Georgia and United National Movement members also attended the rally.
Earlier this year, two former officials, the head of the department for border relations with neighbouring countries of the Ministry of Foreign Affairs of Georgia, Iveri Melashvili, and a senior inspector in the border protection department of the Ministry of Internal Affairs, Natalia Ilychova, have been arrested in the high-profile Georgia-Azerbaijan border case.
According to the Prosecutor's Office of Georgia, Melashvili and Ilychova hid the 1938 map that was supposed to be used in the delimitation talks over the Georgia-Azerbaijan border. Instead, the Prosecutor's Office argued, the experts deliberately used maps from the 1970-80s when agreeing on the state border.
As for Giorgi Rurua, the founder and shareholder of Mtavari Arkhi TV, he has been detained for illegal possession and carrying of a firearm.