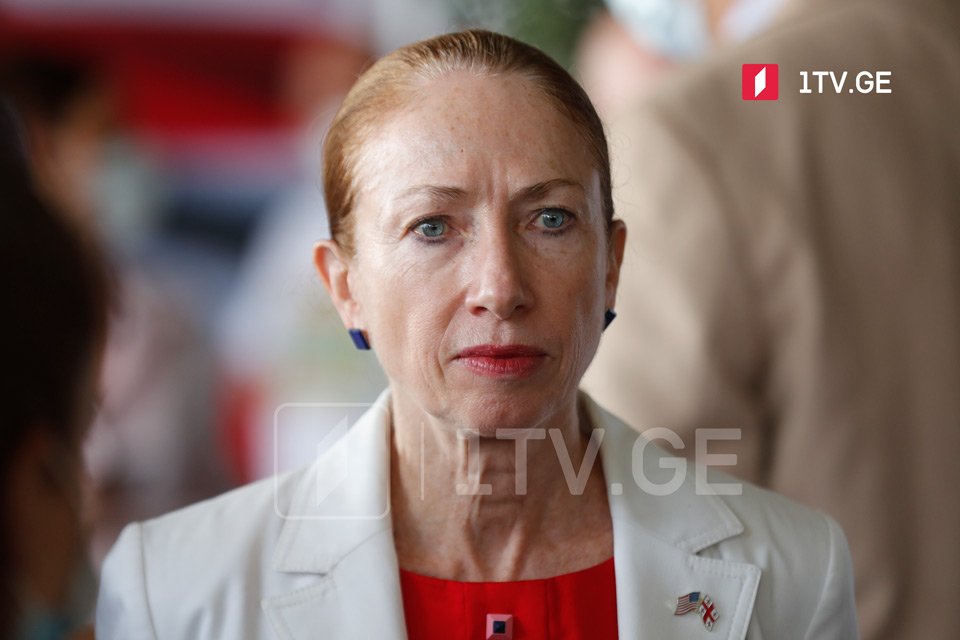 Ambassador Degnan's remarks following her meeting with State Inspector
US Ambassador Kelly Degnan held a meeting with State Inspector Londa Toloraia and her team on Monday.
Ambassador believes the State Inspector plays a very important role in Georgia in protecting citizens' rights. "Their job is to investigate potential crimes by public servants and to hold public servants accountable to the citizens. It's a difficult job, but it's an extremely important job, and sometimes people aren't happy with the results of your investigations."
A new piece of legislation that would split the State Inspector's service into two parts is concerning for Ambassador Degnan. "The process of developing this law is really of the greatest concern. It was done in a rushed manner without consultation, even with the State Inspector, let alone other stakeholders, and with no accountability or transparency. As far as we can tell, it also didn't need to be done in a rushed fashion."
"It's a missed opportunity to make further improvements, as the State Inspector was just explaining her office, her office submitted its own legislation just a few days ago, with some suggestions on how to improve the functioning of the agency. None of those proposed reforms were incorporated into this draft legislation, which simply split the organization. Most troubling and most difficult to explain is that this legislation includes a provision that would require that all the current employees in the State Inspector service be dismissed. These are experts who've been doing these jobs for several years without any complaint or questions by parliament.

Parliament has the oversight responsibility of the State Inspector's service, and yet when the State Inspector submitted their report of their annual activities, there were no questions raised by parliament. There were no complaints raised by parliament, so it's very difficult to understand why it would be necessary to break with precedent and basically dismiss all of the qualified employees of this service by March: a real loss of talent and experience, and capability in one of the most important independent agencies that the country has.

So again, it was a strange process rushing through legislation when there's no need to rush it through. There was a lack of consultation, even with the State Inspector herself and her staff, and, there were very troubling provisions included within this legislation. Again, our request would be for parliament to pause this process, to slow this process down. There is no need to rush it through this week: push it to the next legislature and have a proper, inclusive, transparent consultation with stakeholders and develop an approach that is really, truly improving the State Inspector's service. That would be our recommendation. That would be our strong request of parliament," US Ambassador underscored.
The ruling team MPs initiated to close down the State Inspector's Service, a state body monitoring personal data protection and probing crimes committed by state officials, met with backlash from the opposition. Seven majoritarian MPs tabled a bill aiming to replace the State Inspector's Service with Special Investigation and Personal Data Protection services.
This is an action against the independent institute and its staff. This is a punishment of the Service – for impartiality, for a conscientious attitude towards work and for abiding the law

Find More ? https://t.co/9wsJyitcSO pic.twitter.com/yeQbCGu8fT

— State Inspector's Service (@DPAofGeorgia) December 27, 2021