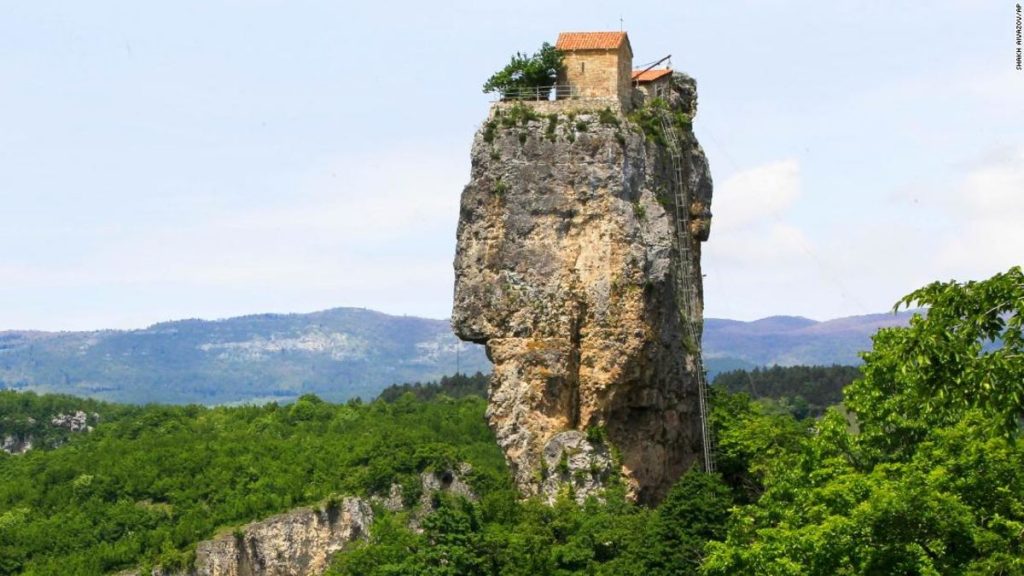 CNN - Katskhi pillar is the extraordinary church where daring monks climb closer to God
CNN writes about Katskhi pillar located in western Imereti region. Nathan Kay, author of the article describes the church as "a natural limestone monolith that towers more than 130 feet, or 40 meters, into the air and on top of which stands what is probably the world's most isolated, and most sacred, churches."
"The Katskhi complex is unique. Atop the column is a church built in the 6th to 8th centuries dedicated to Maximus the Confessor, a 7th-century Georgian monk. There's also a burial chamber, a wine cellar, a curtain wall and three hermit cells.
Each day, monks living below make the nerve-jangling 20-minute ascent via a thin metal ladder bolted to the side of the rock. The daily pilgrimage to say prayers at the top is said to bring them closer to God.
Until 2015, they'd also encounter Father Maxime Qavtaradze, who spent most of his time there for 20 years and was the last monk to live on top. Qavtarade built a new church on the rock in 1995.
Beneath the column or rock stands the newly constructed church of Simeon Stylites, the monastery and the ruins of an old wall and belfry.
Today, the pillar is still celebrated for being one of the most sacred landmarks on Earth. Local monks are now the only people on the planet who are allowed to take the 20-minute climb up the steel ladder on the side of the column to the very top.
Climbing from the monastery positioned below to the church above is a daily pilgrimage they believe is the best way to offer themselves to God, reads the article.
The full text is available at https://edition.cnn.com/travel/article/katskhi-pillar-georgia/index.html