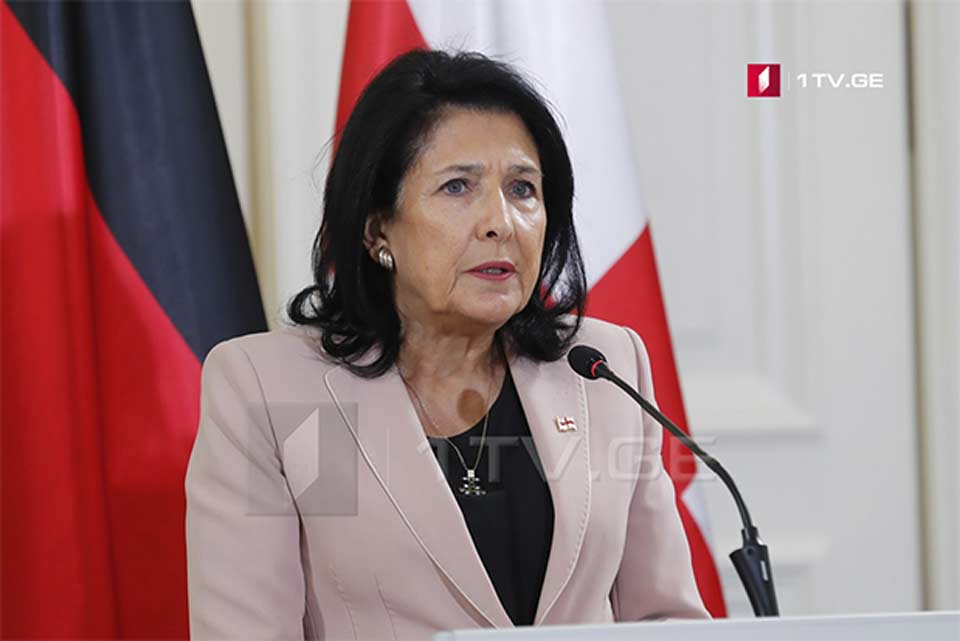 The world should also look at Georgia and Moldova, President Zourabichvili says
"I think that by now the world knows everything they have to know about Vladimir Putin. If they did not know before, if they did not understand, during 2008 war in Georgia and Crimea invasion, by now I think everybody has realized that there is that instinct to expansion," Georgian President Salome Zourabichvili said in an interview with CNN.
President Zourabichvili noted that the "old trend" of Russia's imperialism did not disappear and is now confronted by Ukraine and the unity of the west.
"Ukrainians put fantastic resistance to this invasion and the west is also seeing that, and the west by now knows that it has to support. It has united that is also a very important sign, signal to Russia that it cannot go longer just by invading a country and seeing no reaction," Zourabichvili told CNN.
According to the Georgian President, the reaction does not necessarily have to be force; the West and the United States reacted with unity as well as with sanctions imposed against Russia. What is happening in NATO is also a demonstration of unity, she said.
"Political unity is very important. That is what Russia is watching and sees, the unity of Ukrainians, it sees that it cannot divide Ukraine either between east and west or Russians and anti-Russians.
CNN asked President Zourabichvili if she agrees with the viewpoint that if Putin wins in Ukraine, he will not stop and there is a threat for Georgia, too. "At large, it is true," Zourabichvili said.
President of Georgia explained that Russia already lost a lot in Ukraine. Ukrainians themselves won, Russia did not turn out to be very powerful, it failed to invade Ukraine in a couple of days, its military is not as efficient as it looked for the world before.
As the Georgian President noted, the main events are happening now in Ukraine but it is important that partners remembered about Georgia and Moldova. "Georgia should be on their mind," she said.
"Whether Georgia will be the next one. It is a difficult question. I hope not. We were the first ones and I hope it will not be repeated. But nobody can be sure. Nobody knows what will be the reaction of Russia in front of defeat or half victory. We are very close. We already have occupied territories. We have two military bases in those occupied territories. Of course, we are very vulnerable. Of course, it is very important that the world looks also at Georgia and Moldova. It is very important that we are not forgotten," President Zourabichvili said.