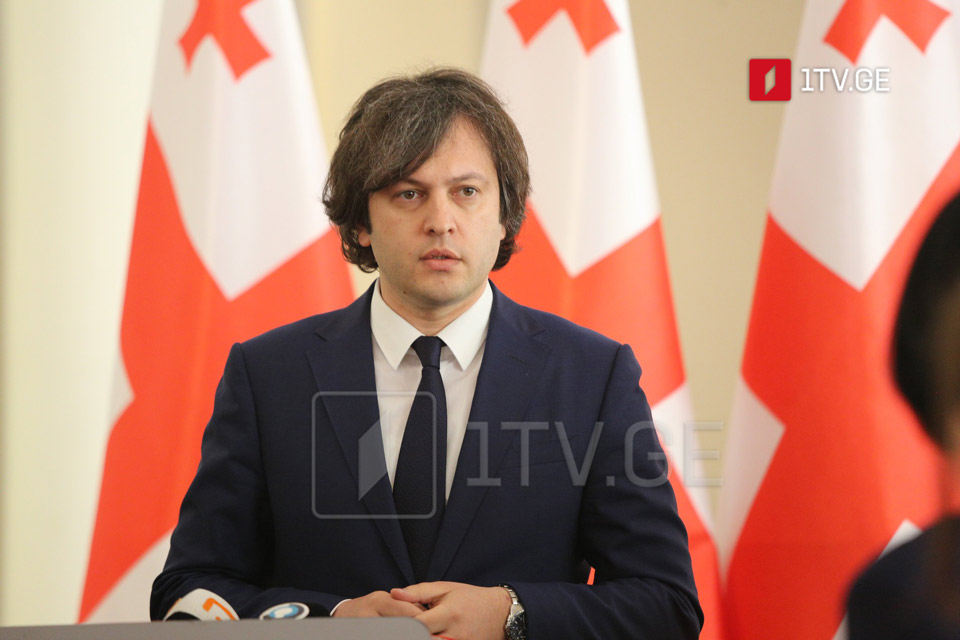 GD Chair says CNN's question to Von der Leyen stems from fake info, shows large-scale coordination against Georgia
Chair of the ruling Georgian Dream (GD) party, Irakli Kobakhidze, on Monday, remarked on a question that the CNN journalist asked Ursula von der Leyen, the European Commission President.
Kobakhidze claims "the was based on false information related to Georgia. Namely, the journalist stated that there are reports of sanctioned goods being exported to Russia through different countries, especially Georgia, and asked whether the next package of EU sanctions would solve this problem."
The GD Chair believes CNN is no ordinary media outlet, and this fact clearly demonstrates the scale of the coordination that is directed against the national interests of Georgia. "Correspondingly, the false information voiced by the CNN journalist requires an immediate response."
Below is Kobakhidze's full statement:
"Had Georgia been allowing the export of sanctioned products to Russia, exports from Georgia to Russia in 2022 would have increased disproportionately. However, let's look at what is actually taking place:
• In 2022, compared to 2021, the growth of Georgia's total exports amounted to 33 percent, while exports to Russia increased by only 7 percent during the said period. Exports from Georgia to China increased by 20 percent in the same period, while exports to Azerbaijan increased by 27 percent, exports to Turkey increased by 35 percent, exports to the United States increased by 36 percent, exports to Bulgaria increased by 67 percent, exports to Armenia increased by 129 percent, and exports to Kazakhstan increased by 148 percent. The share of exports to Russia in Georgia's total exports not only did not increase in 2022 but in fact decreased significantly, which clearly confirms the falsity of the information disseminated by the CNN journalist;
• It should be noted at this point that the goods imported from Georgia make up only 0.3 percent (!) of Russia's total imports in 2022. Against this backdrop, when specific foreign media outlets claim that Russia is finding relief in the goods imported from Georgia it is, to put it mildly, a very big lie; • It should also be noted that more than three quarters of the goods exported from Georgia to Russia in 2022 were alcoholic and non-alcoholic beverages, agricultural products, and ferroalloys;
• Finally, let me remind you that while condemning our country for maintaining trade relations with Russia, EU countries are paying Russia hundreds of millions of euros in imported goods every day (!).
Additionally, compared to the same period in 2021, in February-August 2022 imports from Russia increased by 33 percent in Germany, by 24 percent in Poland, by 100 percent in Italy, by 84 percent in France, by 51 percent in the Netherlands, by 78 percent in Belgium, by 132 percent in Hungary, by 142 percent in Greece, by 51 percent in Spain, by 139 percent in Austria, by 71 percent in Slovakia, by 116 percent in Bulgaria, by 55 percent in Romania, by 31 percent in Czechia, by 346 percent in Slovenia, by 68 percent in Croatia, by 138 percent in Cyprus, and by 262 percent in Luxembourg.
When influential foreign media outlets spread lies of this scale against the Georgian state, this is a separate problem. However, it is a bigger problem when the same lies are being circulated by the Georgian radical opposition and its media outlets. This fact confirms once again that Georgia's national interests mean nothing to these people and in reality, they are serving not Georgia, but rather a force hostile to it. It is also unfortunate that they persuaded the President into circulating this lie, who demanded a "categorical and fact-based answer" to the accusations.
This is my categorical and fact-based answer to the false accusation that concerns Russia "finding relief" in Georgian exports and circumventing sanctions."