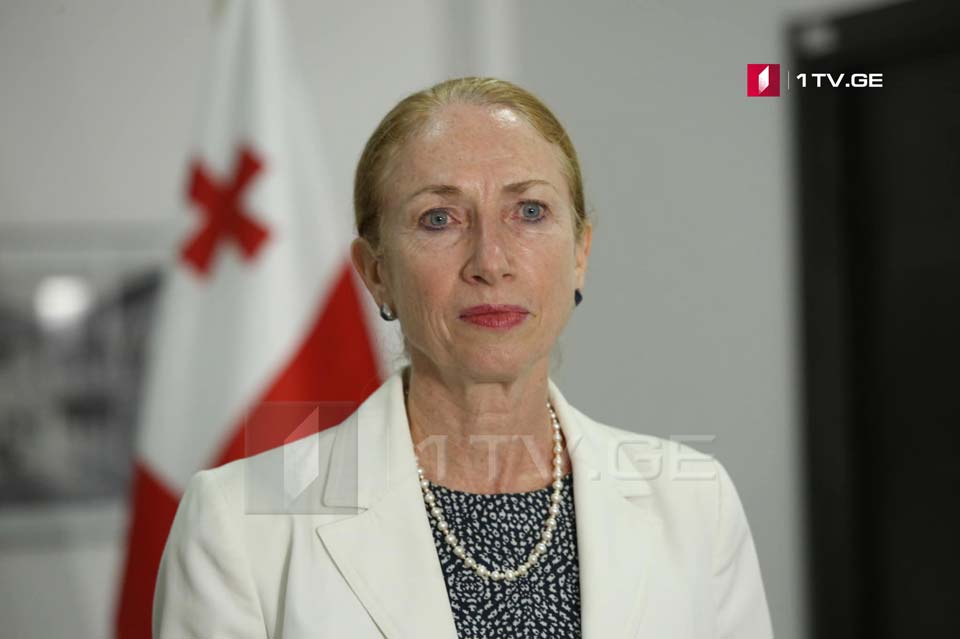 'We're a little disappointed,' Ambassador Degnan on reports of altercation at U.S. Independence Day reception
U.S. Ambassador to Georgia Kelly Degnan Friday echoed reports about altercation during U.S. Independence Day reception, saying "we're a little disappointed that these reports overshadowed what was otherwise a very positive and happy celebration of America's Independence Day."
Ambassador Degnan stressed, "the violence is unacceptable, particularly when there's been a pattern of attacks against media representatives."
"We're looking into the reports. We're not aware that any formal legal process has started yet, but certainly, violence is unacceptable, particularly when there's been a pattern of attacks against media representatives. We're also concerned about the reports of violence in the regions against political representatives regarding the right of freedom of assembly, freedom of expression. We're seeing violence being brought in to infringe, suppress, deny people their constitutional rights under Georgia's constitution. It's very concerning. It's also disappointing.

We had a terrific event last night to celebrate America's Independence Day, and it was a very positive event, bringing together Georgians, emphasizing how much Georgia can do when Georgians work together, unified for the European future of this country. So, we're a little disappointed that these reports overshadowed what was otherwise a very positive and happy celebration of America's Independence Day," she asserted.
The remark follows allegations by Vato Tsereteli, the founder of the TV Pirveli channel, who accused the ruling Georgian Dream party lawmakers Anri Okhanashvili, Beka Odisharia, Irakli Zarkua and Levan Mgaloblishvili of physically assaulting him on the territory of the Embassy.
GD's Anri Okhanashvili calls those allegations "dirtiest provocation," while Irakli Zarkua deemed it "pre-planned provocation."
Ambassador Degnan's remarks to media at the Screening of "Davita" https://t.co/u2StoHqNVp

— U.S. Embassy Tbilisi (@usingeo) July 1, 2022