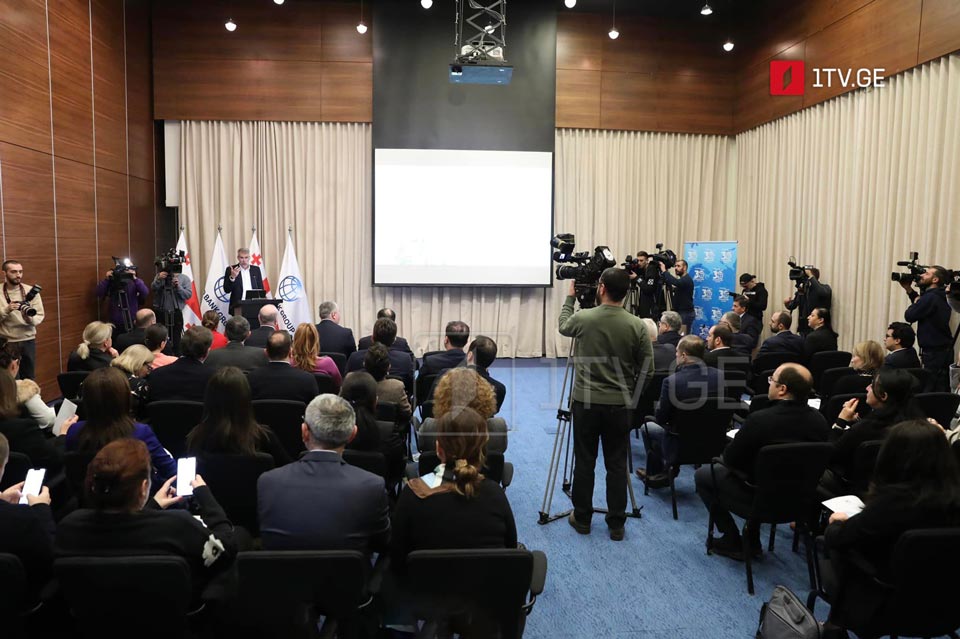 WB launches memorandum for Competitive, Connected and Capable Georgia 
Georgia's sound economic management and good business environment will continue to support economic activity, but further reforms will be required to keep GDP growth between 4-4.5 percent, according to the World Bank's Country Economic Memorandum (CEM) for Georgia. The report, titled "Charting Georgia's Future: Competitive, Connected and Capable", was launched Tuesday at an event hosted jointly by the Word Bank and the Government of Georgia.
The report depicts Georgia's significant development gains over the last decade and seeks to inform government policies and help facilitate similar successes over the next 10 years. Specifically, the CEM features the story of a small, open and resilient economy that has made considerable progress in GDP growth and poverty reduction, yet with more limited success in improving productivity and creating well-paying jobs.
The Country Economic Memorandum recommends that Georgia could maximize its growth potential by facilitating the ongoing structural and spatial transformations; improving productivity performance at the sector- and firm- level; increasing connectivity and external trade; and building up and better utilizing human resources.
In an uncertain and challenging world, the CEM stresses the importance of sustaining pre-COVID growth rates and improving the quality of growth, hence allowing people to access better-paying jobs.
"Georgia oversaw a successful economic expansion this last decade, however, Georgia should not remain complacent and should continue to modernize and reform its economy to help ensure another successful decade," said Sebastian Molineus, World Bank Regional Director for the South Caucasus. "A more capable, competitive, and connected Georgia will be better placed to navigate the global trends of falling growth potential, rising debt, strains in global value chains, disruptive technologies, and climate change – all of which stand to either pose risks to growth or, if managed proactively, offer potential opportunities."
"In recent years, Georgia has made significant progress in macroeconomic stability, economic resilience, private sector competitiveness, structural improvement of the economy and the development of respective regulatory frameworks. We are committed to building on this success and strengthening efforts to support productivity enhancement reforms, connectivity improvement, increasing Georgia's integration in global value chains, human capital development and unlocking new opportunities for digitalization and innovation," said Levan Davitashvili, Vice Prime Minister, Minister of Economy and Sustainable Development of Georgia.
The report points out that structural and spatial transformation in Georgia is ongoing, however with agriculture still accounting for around a fifth of employment and significant differences in the output per worker in agriculture and the rest of the economy, the potential of structural transformation is far from exhausted. Improving productivity in agriculture, strengthening dynamism in cities and better preparing Tbilisi for sustainable and inclusive growth, will be key to accelerate the transition.
"Going forward, growth in Georgia will increasingly need to come from improvements in firm productivity and advancement in their ability to exploit opportunities in external markets. In addition, more active and better-skilled labor can help offset existing demographic trends and augment productivity," said Evgenij Najdov, World Bank Senior Economist.
The document discusses a few economy-wide constraints that may be affecting productivity including access to finance, informality, competition, as well as firm capabilities such as managerial skills and innovation. The CEM highlights that being a small economy, Georgian firms need to become more export-oriented and better connected.
The report recommends for savings to increase to restore stronger investment rates without raising debt sustainability issues. This could be done by continued prudent macroeconomic policies, strengthening the corporate governance and performance of state-owned enterprises (SOE) , and by improving financial literacy of households, especially in terms of long-term decisions regarding education and health.
Finally, the CEM addresses Georgia's skills and labor market challenges, pointing to a mismatch between the jobs created and the education profile of the labor force;  a skills gap stemming from weaker teaching practices and limited links with employers; and underdeveloped labor market institutions that limit information access and employment services.