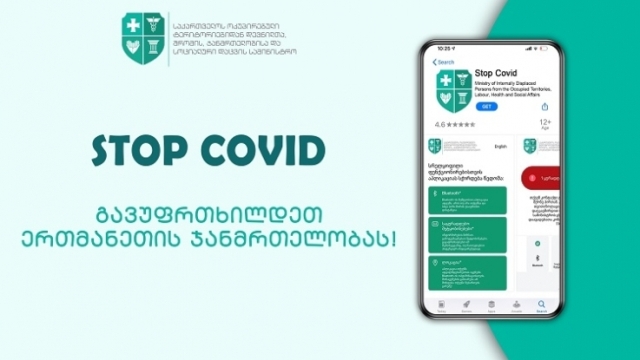 STOP COVID App launched in Georgia, enabling users to find out if they were in contact with COVID-infected person
STOP COVID application has been launched in Georgia starting from today, enabling users to find out if they have been in contact with a person infected with COVID-19.
The innovative application STOP COVID has been developed at the initiative of the Ministry of Health of Georgia, the purpose of which is the early detection and prevention of COVID-19.
The STOP COVID app makes it possible to prevent the spread of the virus through the timely notification of people who have been in contact with a person infected with COVID-19.
"Bluetooth, GPS, and other technologies are used to determine which smartphones have been in close proximity with each other. Information about the interaction between app users – date of contact, cases involving specific durations (more than 15 minutes) and distances (less than two meters) – are encrypted and stored locally in the apps of both users. If either of the persons is diagnosed with COVID-19, the persons who have been in contact with the aforementioned confirmed case over the past few days will receive a warning via the app to remain in self-isolation and to immediately contact the relevant agencies, "the ministry said.
The app was developed by an Austrian company, which made it available to the governments of various countries free of any licensing fees. The app was brought to full compliance with the reality and legislation of Georgia.
A similar model of the app has already been successfully launched and utilized by numerous countries including Japan, South Korea, Singapore, and others.
Android users can download the app using the following link: https://bit.ly/3bkYphX
iOS users can download the app using the following link: https://apple.co/2V92MXw