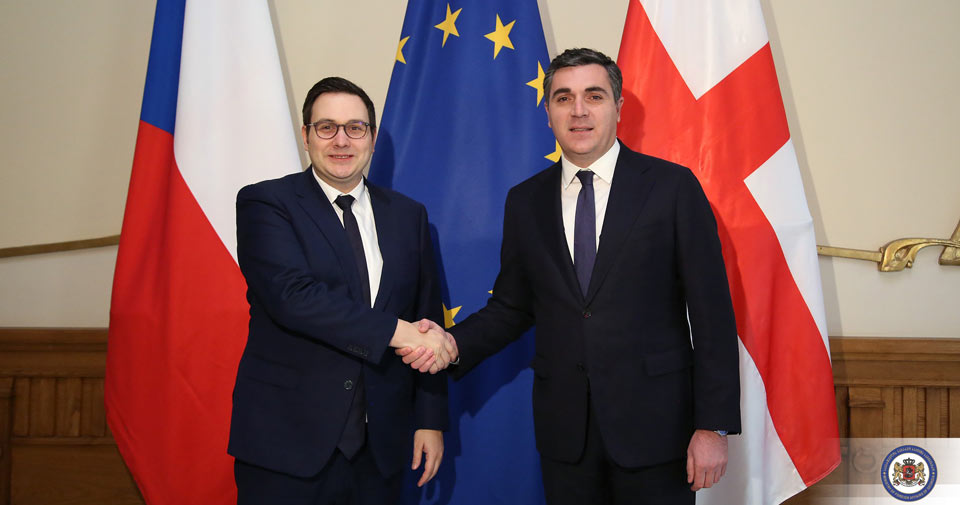 Putin's horrendous unjust war in Ukraine shows EU must provide more support to Georgia, Czech FM says
"Any scenario can be expected from Russia, and it is absolutely essential to support Georgia politically and practically, all partners to focus on strengthening Georgia's resilience and defence capabilities," Czech Foreign Minister Jan Lipavsky said at a joint press conference following the meeting with Georgian FM Ilia Darchiashvili.
The first diplomat of the Czech Republic emphasized the close relations and cooperation between the two nations.
"We agreed that the relations between Georgia and the Czech Republic can be described as excellent. Our diplomatic relations are based on strong historic ties that closely link our countries. Now is the time to look to the future with not only optimism but with new ideas to deepen the bonds between the two countries," said Jan Lipavski.
He noted that relations with Eastern Europe are high on the agenda of the Czech presidency of the Council of the EU.
"Putin's horrendous unjust war in Ukraine has shown that the bloc must provide more support to Georgia and other affected nations such as Ukraine and Moldova," he added.
According to him, the Czech Republic supports Georgia's efforts to move ahead on the European and Euro-Atlantic path.
"Georgia needs to continue with its efforts for effective reforms. The goal is to fulfil the 12-point conditions outlined by the European Council for granting the country the EU candidate status. We feel that country needs to make efforts to weaken the polarization across the political spectrum and focus on its efforts on building solid democratic institutions since this is key to fulfilling the goals and receiving EU membership candidate status. The tangible and visible outcomes will lead to progress. Let me finish on the note that Georgia and the Czech republic share common values as well as a common vision of Europe. We wish for peace and stability. I look forward to witnessing the moment when Georgia is granted EU candidate status," Czech Minister said.
Jan Lipavsky, the Czech Republic's Minister of Foreign Affairs, is in Georgia.
I met my 🇬🇪 counterpart @iliadarch. We discussed Czechia's 🇨🇿 support for Georgia's European aspirations. I assured him that Georgia can count on our support. We stand with Georgia also in facing Russia's aggression against Ukraine. #CZPRES pic.twitter.com/QMKzNv5jSK

— Jan Lipavský (@JanLipavsky) November 10, 2022