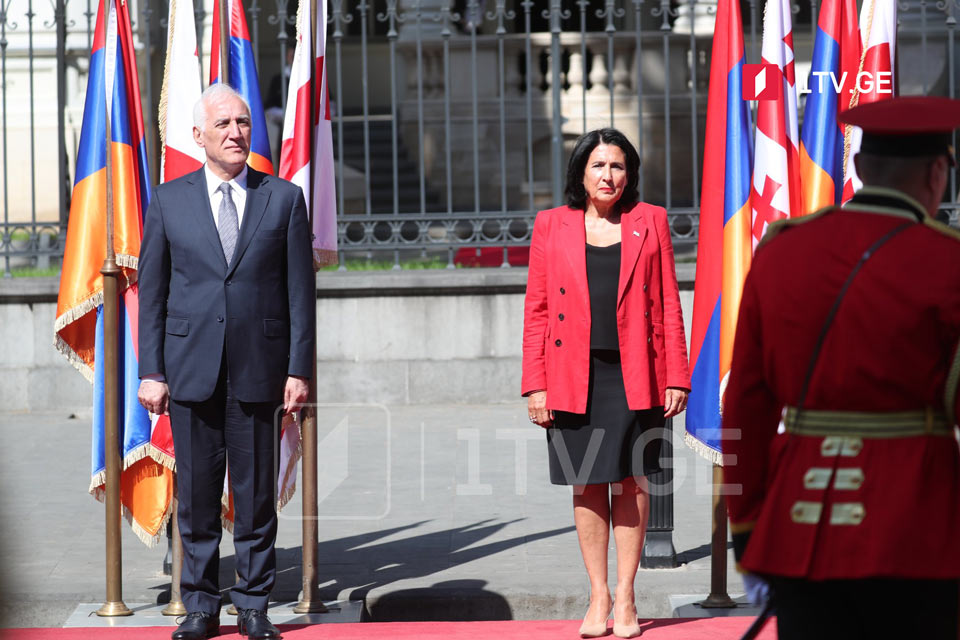 Presidents of Georgia and Armenia brief media
Georgian President Salome Zourabichvili reviewed the centuries-old relations between Georgia and Armenia at a joint briefing following the meeting with the Armenian counterpart at the Orbeliani Palace.
"We celebrate the 30th anniversary of our diplomatic relations this year. Thirty years have been a challenging period for both countries. Our centuries-old history reflects our good-neighbourly relations, which continue with friendship and cooperation," Zourabichvili said.
"Georgia and the region, which is a part of the Eastern Partnership, stand to benefit broadly from the opportunities that come with the EU integration path. Hopefully, this will open up new prospects for political or economic development," she said.
President dubbed Russian aggression in Ukraine a new challenge for the region "as it violates all international norms and principles". Zourabichvili also spoke about the situation in the territories of Georgia occupied by Russia, noting that it remains worst.
Touching upon regional issues, the Georgian President expressed hope that the talks between Armenia and Azerbaijan will continue successfully.
"Today, we discussed issues related to infrastructure, transport and communication projects. We reaffirmed our commitment to maintaining a high level of multilateral relations and deepening cooperation in the high technology field," Armenian President Vahagn Khachaturian stated.
The President of Armenia started his official visit to Georgia on Monday.