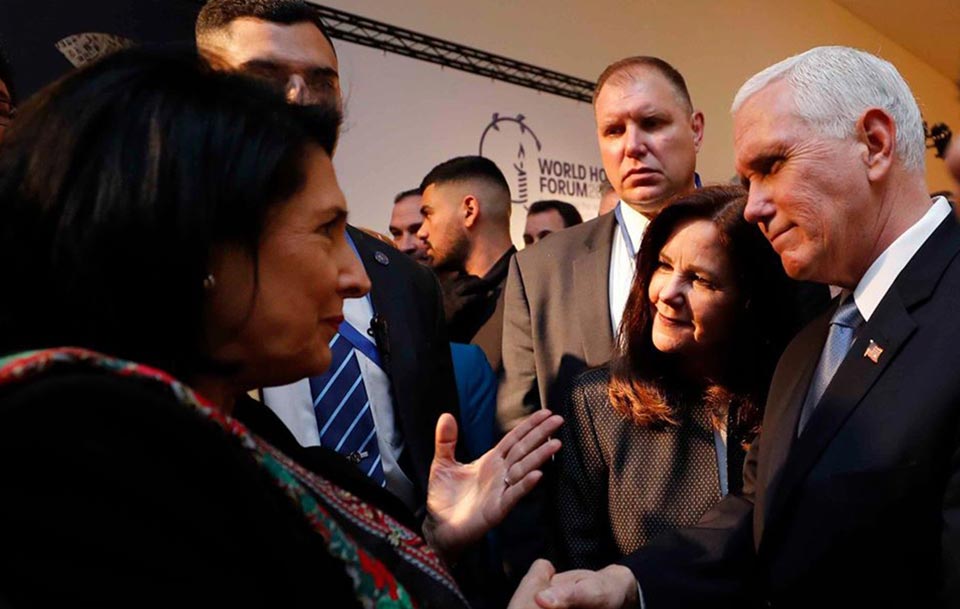 President of Georgia quotes words of U.S. Vice President
President of Georgia Salome Zurabishvili is participating in the fifth World Holocaust Forum being held in Jerusalem together with more than 45 world leaders.
Zurabishvili published a photo taken with Mike Pence, Vice President of the United States during the forum in the social network Facebook.
President of Georgia also quoted the words of Mike Pence saying: "We love Georgia and stand next to it." Zurabishvili writes that she thanked U.S. Vice President for support.
Dozens of monarchs, presidents and prime ministers travelled to Jerusalem to remember the Holocaust on Thursday and were given stark warnings not to ignore escalating anti-Semitism and violence against Jews in Europe and the United States.
"Historical lessons were forgotten. Remembering the past is our duty, but it is not enough," said the narrator of a video played at the start of the ceremony, as the Russian president, Vladimir Putin, the French president, Emmanuel Macron, and the US vice-president, Mike Pence, sat in the front row.