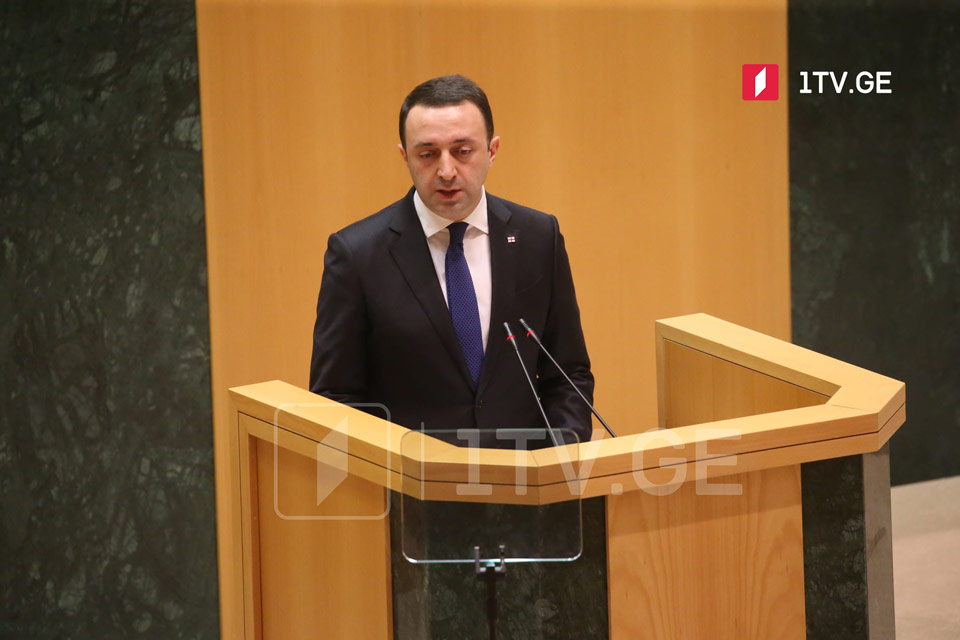 PM to deliver gov't performance report
Georgian Prime Minister Irakli Garibashvili delivered his annual report to the parliament. Members of the parliamentary majority and the opposition will now have an opportunity to challenge the PM.
The 151-page report on the government performance reflects foreign policy, security, conflict resolution, human rights, economic development, social affairs and governance.
Irakli Garibashvili focused on the implemented infrastructure projects saying approximately 600 kilometres of roads were rehabilitated. The 70 kilometre-long highway opened that reduced duration of Tbilisi-Batumi travel time by one hour. The Poti Marine Terminal construction is in full swing. Anaklia deep water port remained the priority, while the Baku-Tbilisi-Kars project was 82% completed.
"All large or small projects aim to strengthen the region, create new jobs," the Prime Minister stated.
According to PM Garibashvili, the Covid-19 pandemic hit hard the Georgian economy. "The Georgian government managed to mobilize USD 2 billion and 100 thousand funding shortly to finance the responsive measures and retain microeconomic stability," he said.
Prime Minister said the government increased wages to police officers. He claimed that Georgia had progressed in the fight against organized crime, trafficking, drug-related crimes and cybercrime. Reforms continued in law enforcement agencies.
Prime Minister thanked Georgian physicians for their effort in managing and curbing the Covid-19 pandemic. He said Georgia would shortly receive over a million vaccine shots to launch mass immunization in the country.
Prime Minister Garibashvili accentuated that the development of culture and sports is a top priority for the government. Garibashvili said the work on the Culture Code is underway to meet fairness and human rights protection international principles.
According to PM, the construction of the Basketball Palace is underway to host the 2022 European Championship. In 2023, Georgia would host Ski and Snowboard Freestyle World Championship and Youth Winter Olympic Festival in 2025.