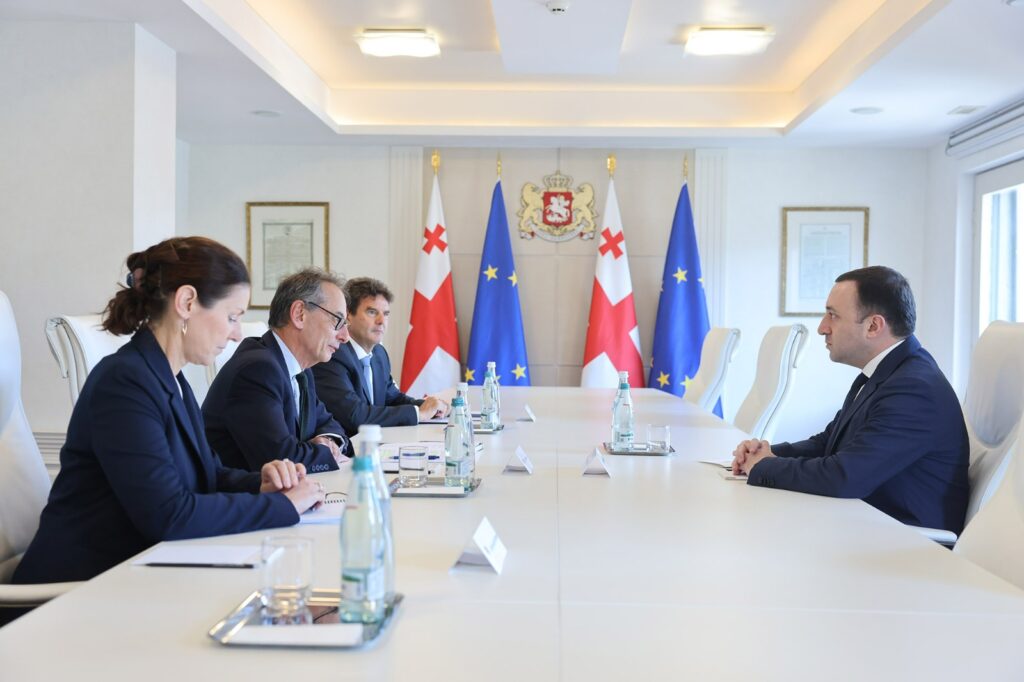 PM meets EBRD Managing Director, new Regional Director for the Caucasus
Irakli Garibashvili, Georgian Prime Minister met Matteo Patrone, Managing Director of the European Bank for Reconstruction and Development (EBRD) today, who introduced Alkis Vryenios Drakinos as a new Regional Director of the EBRD for the Caucasus.
The meeting was attended by Catarina Bjorlin Hansen, current Regional Director of EBRD who is completing her term on August 30, 2023. Alkis Vryenios Drakinos is due to resume his duties in Tbilisi on September 1, 2023.
Irakli Garibashvili congratulated Alkis Vryenios Drakinos on his appointment to the new position and expressed gratitude to Catarina Bjorlin Hansen for her productive cooperation with the Government of Georgia. The Prime Minister wished every success to Catarina Bjorlin Hansen and Alkis Vryenios Drakinos in their future endeavors.
The meeting held within the Government Administration was focused on the review of the main directions of cooperation between Georgia and EBRD, along with a discussion of projects. The Prime Minister of Georgia highlighted the significance of support demonstrated by the EBRD in financing the strategic directions of the country's economy. According to Irakli Garibashvili, Georgia is a nation of European aspirations on its European road of economic transportation and the role of EBRD is vital in this process.
It was noted that EBRD has so far invested almost 5 billion Euros in Georgia through 286 projects.
Irakli Garibashvili stressed the progress achieved by the Government of Georgia towards economic growth and development, thereby noting that irrespective of the global challenges, Georgia has managed to have double-digit economic growth in the past 2 years due to its right policies.
New areas of cooperation were discussed at the meeting and prospects of future interaction were defined by the dignitaries.