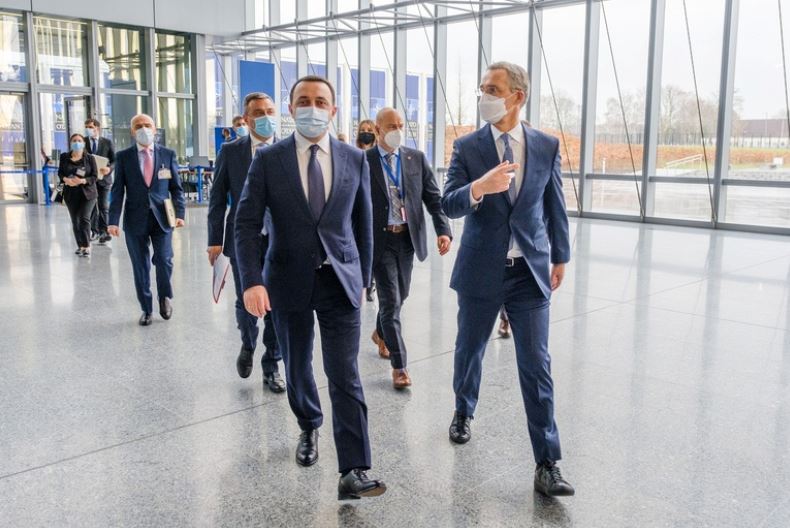 PM Gharibashvili: NATO membership to be top priority enshrined in Georgian Constitution
Membership in NATO is Georgia's top foreign and security priority, a priority so important that it is enshrined in our Constitution, Georgian Prime Minister Irakli Gharibashvili declared after the meeting with NATO Secretary General Jens Stoltenberg in Brussels.
PM Gharibashvili accented at a joint press conference that the parties discussed the dynamic and substantive agenda of NATO-Georgia cooperation and our integration process.
According to Irakli Gharibashvili, Georgia has all the practical tools to prepare for membership and is the closest and most reliable and interoperable partners of the Alliance.
"Our NATO aspiration is based on the overwhelming majority of Georgian people who support this objective. It is a matter of broad consensus among the major political parties. As a reflection of the vital role of NATO and our agenda for European and Euro-Atlantic integration, my first official foreign visit as the new Prime Minister of Georgia is to Brussels. We have all the practical tools to prepare for membership. We are one of the closest and most reliable and interoperable partners of the Alliance.
Georgia has proven its ability to share the burden of collective defence through our participation in NATO-led operations. 860 Georgian men and women have been serving shoulder to shoulder along with Allied military servicemen in Afghanistan.
They have proved their dedication, professionalism and commitment to this very important cause. We welcome NATO's increased presence in the Black Sea region. NATO's presence in the Black Sea is a strong deterrence factor that brings an equally strong stabilizing effect for countries in the region.
European security cannot be complete without a secure and stable Black Sea. This reality has become painfully evident in recent years. We welcome the launching of the Allied strategy "NATO 2030", which will eventually result in the adoption of the new Strategic Concept of the Alliance. We do hope that the level of ambition demonstrated in the Expert Group report – "NATO 2030 – United for New Era" on "Open Door Policy" will be maintained in the new Strategic Concept as well," the Georgian Prime Minister concluded.