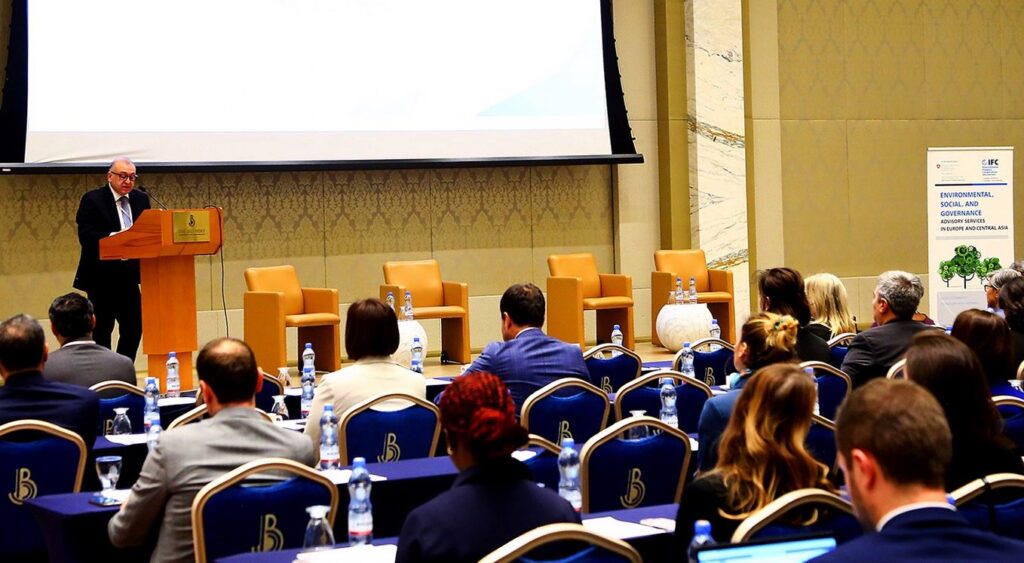 NBG hosts 4th Sustainable Finance Forum
The National Bank of Georgia (NBG) today hosted the fourth Sustainable Finance Forum. Organized in collaboration with the International Finance Corporation (IFC), a member of the World Bank Group, in partnership with the Swiss State Secretariat for Economic Affairs SECO, and the IFC-facilitated Sustainable Banking and Finance Network (SBFN), this year's Forum was delivered in a hybrid format with both in-person and virtual participation.
The Forum brought together over 300 attendants from 55 countries across the globe, including senior representatives from EU and SBFN member countries, senior officials of central banks from different regions, local financial institutions, international organizations, private and public sector representatives, universities and other stakeholders.
Koba Gvenetadze, NBG Governor, welcomed participants in his opening remarks, highlighted the NBG's Sustainable Finance achievements and celebrated its fifth anniversary of joining SBFN: "I am very pleased to see the growing interest towards sustainable finance. The number of countries, institutions, entities, and experts that participate in the Sustainable Finance Forum-organized by the NBG in collaboration with IFC and SBFN-increases every year. It is symbolic that the idea of developing a Sustainable Finance Roadmap for Georgia was born on the very first sustainable finance forum. And today, on the 4th sustainable finance forum, we are celebrating its successful implementation."
The Sustainable Finance Forum brought together high-level representatives from all over the world to share their experience in developing sustainable finance frameworks and discuss the latest developments and challenges, with a focus on emerging countries such as Georgia, Ukraine, Mongolia, Kazakhstan, Morocco, Egypt, Hungary, South Africa, Columbia and others.
The panelists talked about how emerging markets are leveraging roadmaps to support an effective shift to sustainable finance and discussed countries' success stories. Country representatives also discussed the role of taxonomies in supporting sustainable finance, highlighted the importance of disclosure and transparency in this process as well as other sustainability topics that drive urgency in this area. Discussions revolved around private sector perspectives on the challenges and opportunities brought through sustainable finance. Participants also shared their future plans and projects, the NBG press statement reads.